prof. Geert van Loo (PhD)
CRIG group leader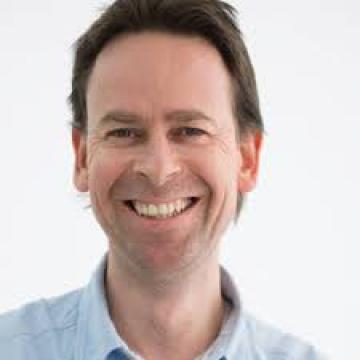 Principal investigator - Unit Cellular and Molecular (Patho)physiology - VIB Inflammation Research Center
Senior lecturer (Faculty of Sciences, UGent)
member of the CRIG steering committee (2022-2025)
 
Research focus
Chronic inflammation strongly contributes to tumor initiation and progression, and many of the tumor-promoting effects of inflammation depend on the activation of NF-κB dependent genes encoding cytokines, growth factors, survival proteins and others. Interference with NF-κB signalling therefore represents a potential therapeutic approach. Through cell specific gene knockout approaches in mice, we investigate in vivo the role of specific inflammatory signaling pathways (NF-kB, autophagy, inflammasome, cell death), and the involvement of important regulatory proteins, in different models of chronic inflammation and inflammation-induced cancer.
 
Biography
Geert van Loo obtained a Master in Bioengineering in Chemistry in 1994, a Master in Biotechnology in 1996, and a PhD in Biotechnology in 2002 at Gent University.
During his PhD, which he performed in the research group of Dr. Peter Vandenabeele (Gent University and VIB),  Geert focussed on signalling pathways and molecular mechanisms controlling apoptotic and necrotic cell death, and the involvement of mitochondria in both processes.
After his PhD, he moved to Italy for a postdoc at the European Molecular Biology Laboratory (EMBL) - Mouse Biology Unit, in the research group of Dr. Manolis Pasparakis.
During this postdoc he used "state of the art" gene targeting technology in mice to understand the function of signalling pathways involved in the pathogenesis of inflammatory diseases.
In 2006, Geert returned to Gent University and VIB where he joined the research group of Dr. Rudi Beyaert, where thanks to an FWO Odysseus grant, he could setup his own research unit.
In 2011, Geert became Professor at the University of Gent, and in 2015 group leader at the VIB.
 
Key publications
OTULIN maintains skin homeostasis by controlling keratinocyte cell death and stem cell lineage. Nat. Commun., 12(1):5913.(2021)

Fibrotic enzymes modulate wound-induced skin tumorigenesis. EMBO Rep., 22 (5), e51573. (2021)

Zeb2 drives invasive and microbiota-dependent colon carcinoma. Nature Cancer, 1, 620–634. (2020)

OTULIN prevents liver inflammation and hepatocellular carcinoma by inhibiting FADD- and RIPK1 kinase-mediated hepatocyte apoptosis. Cell Rep., 30(7), 2237-2247. (2020)

Epithelial HMGB1 delays skin wound healing and drives tumor initiation by priming neutrophils for NET formation. Cell Rep., 29(9), 2689-2701. (2019)

Physical and functional interaction between A20 and ATG16L1-WD40 domain in the control of intestinal homeostasis. Nat. Commun., 10 (1), 1834. (2019)

A20 prevents chronic liver inflammation and cancer by protecting hepatocytes from death. Cell Death Dis.(2016) 

A20 controls intestinal homeostasis through cell-specific activities. Nat. Commun. (2014) 


 
Contact & links
Technologiepark 71 - 9052 Zwijnaarde