prof. Rudi Beyaert (PhD)
CRIG group leader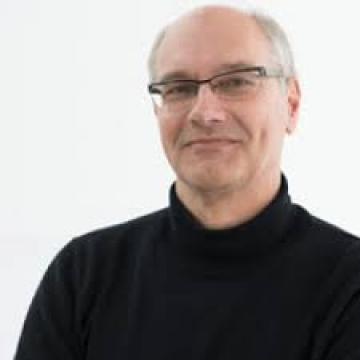 Principal investigator - Unit of Molecular Signal Transduction in Inflammation, Inflammation Research Center, VIB
Associate department director - Inflammation Research Center, VIB
Full professor (Faculty of Sciences, UGent)
Head of the BCCM/GeneCorner Plasmid Collection (UGent)
 
Research focus
Our cancer research is situated at the intersection of cancer and inflammation. We study molecular signaling mechanisms (e.g. NF-kB signaling) in cancer cells and immune cells, which eventually contribute to the regulation of tumor cell proliferation and survival. In this context, we have identified the protease MALT1 as a novel therapeutic target, which directly and indirectly (by mediating regulatory T cell expansion) contributes to cancer. We are also studying several cytokines (e.g. IL-33) and cytokine receptors that regulate innate and adaptive immune cells (e.g. regulatory T cells) in the tumor microenvironment, and have developed novel cytokine targeting biologics with therapeutic potential. In our research we make use of several cellular models for preclinical evaluation of cancer drugs, as well as the mouse as an in vivo model to study cancer immunology and immunotherapy. Our technical approaches include several signaling assays, proteomics (focusing on protein-protein interactions and posttranslational modifications such as phosphorylation and ubiquitination), immunophenotyping, Treg expansion, mouse genetic engineering and mouse models of disease. 
 
Biography
Rudi Beyaert is full professor at the University of Ghent (Belgium) and Deputy Director of the Center for Inflammation Research Center at the VIB. He is heading the Unit of Molecular Signal Transduction in Inflammation, whose mission is to study the molecular mechanisms that regulate inflammation and cancer. Major contributions to this topic include the discovery of the paracaspase MALT1 as a novel protease and therapeutic target. He has published over 260 papers that are highly cited (>18 500 citations) and has a h-index of 72.
He received several awards, amongst which the five-yearly Prize of Fundamental Medical Sciences of the Belgian Royal Academy of Medicine. Prof. Beyaert is on the editorial board of 'Biochemical Pharmacology' and 'The FEBS Journal'. He serves as an expert panel member for multiple national and international science funding organizations, including the ERC.
 
Research team
prof. Rudi Beyaert - principal investigator, full professor
prof. Jens Staal (PhD) - post-doctoral fellow
dr. Inna Afonina (PhD) - post-doctoral fellow
dr. Simon Tavernier (MD, PhD) - post-doctoral fellow
dr. Giel Tanghe (PhD) - post-doctoral fellow
Seo Woo Kim - doctoral fellow
Styliani Iliaki - doctoral fellow
Ioannis Skordos - doctoral fellow
Aurora Holgado - doctoral fellow
Femke Van Gaever - doctoral fellow
Aigerim Aidarova - doctoral fellow
Marieke Carels - doctoral fellow
Yasmine Driege - lab technician
Mira Haegman - lab technician
Marja Kreike - lab technician
Griet Baudelet - lab technician
 
Key publications
Fragility can be a good thing in cancer. Nat Immunol., 2020

Spatiotemporal Changes of the Phagosomal Proteome in Dendritic Cells in Response to LPS Stimulation. Mol Cell Proteomics. 2019

 

May;18(5):909-922. (PMID: 30808727)

Ubiquitination and phosphorylation of the CARD11-BCL10-MALT1 signalosome in T cells. Cell Immunol. 2019 Jun;340:103877. (PMID: 30514565)

Molecular mechanisms of IL-33-mediated stromal interactions in cancer metastasis. JCI Insight. 2018 Oct 18;3(20). (PMID: 30333314)

Inflammation and NF-κB Signaling in Prostate Cancer: Mechanisms and Clinical Implications. Cells. 2018 Aug 29;7(9). (PMID: 30158439)

Dichotomous function of IL-33 in health and disease: From biology to clinical implications. Biochem Pharmacol. 2018 Feb;148:238-252. (PMID: 29309756)

Limiting inflammation-the negative regulation of NF-κB and the NLRP3 inflammasome. Nat Immunol. 2017 Jul 19;18(8):861-869. (PMID: 28722711)

Targeting MALT1 Proteolytic Activity in Immunity, Inflammation and Disease: Good or Bad? Trends Mol. Med., 2016 (PMID: 26787500)

The PDGF-BB-SOX7 axis-modulated IL-33 in pericytes and stromal cells promotes metastasis through tumour-associated macrophages. Nature Commun., 2016. (PMID: 27150562)

A20 prevents chronic liver inflammation and cancer by protecting hepatocytes from death. Cell Death Dis., 2016 (PMID: 27253414)

Receptor proximal kinases in NF-κB signaling as potential therapeutic targets in cancer and inflammation. Biochem. Pharmacol., 2014. (PMID: 25449604)

IL-33 targeting attenuates intestinal mucositis and enhances effective tumor chemotherapy in mice. Mucosal Immunol., 2014 (PMID: 24424522)

A20 controls intestinal homeostasis through cell-specific activities. Nature Commun., 2014 (PMID: 25267258)

The tumor necrosis factor alpha-induced protein 3 (TNFAIP3, A20) imposes a brake on antitumor activity of CD8 T cells. PNAS, 2014 (PMID: 25024217)

Cancer risk in immune-mediated inflammatory diseases (IMID). Mol. Cancer, 2013 (PMID: 23987103)

IκB kinase ε (IKKε): a therapeutic target in inflammation and cancer. Biochem. Pharmacol., 2013 (PMID: 23333767)

T cell antigen receptor stimulation induces MALT1 paracaspase-mediated cleavage of the NF-kappaB inhibitor A20. Nature Immunol., 2008 (PMID: 18223652)


 
Contact & links
UGent, Technologiepark 71, 9052 Zwijnaarde - Gent
prof. Beyaert is interested to receive invitations for presentations or talks