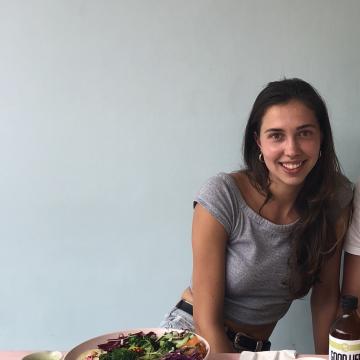 Research focus
Colorectal cancer (CRC) is a devastating and deadly disease, with increasing incidence in Western society. CRC development involves complex interactions between intestinal microbes, the intestinal epithelium and the host immune system. However, research in this area has been hampered due to the lack of an accurate disease model. Now, for the first time, we are able to study these interactions in a new mouse model generated by the host labs, which is the first model of spontaneous, microbiota-dependent, invasive CRC. 
My research project aims to investigate the molecular interactions in this microbiota-tumor-immune network to generate new knowledge on the mechanisms driving CRC. In addition, I am to investigate and identify distinct bacterial taxa driving CRC, using state-of-the-art germfree and gnotobiotic mouse technology.
It has become increasingly clear that the gut microbiota is a central regulator of health and disease, affects both cancer development and therapy response. We therefore believe that microbiota interventions open new perspectives for both cancer prevention and therapy.
 
Contact & links
Lab address: Inflammation Research Center – VIB, Technologiepark 71, 9052 Zwijnaarde