Prof. Annemieke Madder (PhD)
CRIG member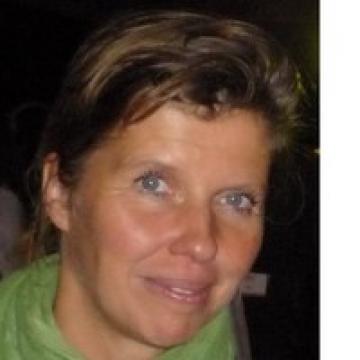 Group leader / Principal Investigator – Organic and Biomimetic Chemistry Research (OBCR)group 
Full Professor (Faculty of Sciences, UGent)
Member of IOF
 
Research focus
The Organic and Biomimetic Chemistry Research (OBCR) Group is specialized in the design and synthesis of modified peptides and nucleic acids and methods for their conjugation and labeling. Building expertise in this area for more than 20 years, within OBCR we now try to contribute to tackling the major challenge of targeted delivery of next-generation therapeutic biologicals where successful orthogonal bioconjugation chemistries are prerequisite for the success of such therapeutic strategies. In parallel, we exploit the developed technologies for applications in advanced biomarker detection. We use tools such as singlet oxygen (or ROS species on cellular level) and red light activation of photosensitizers to achieve selective precision ligations and bioconjugations between and/or to biomolecules.
More specifically, major research interests include:
The construction of conformationally defined peptide architectures. Scaffold decoration, cyclisation and peptide stapling are used to impose a particular conformation and stability on the parent peptides. The synthesized compounds can find applications as peptide vaccins, peptide hydrogels, protein mimetics, DNA-binding ligands and artificial receptors or synthetic antibodies.
The development of new methods for crosslinking and labeling of biomacromolecules such as peptides, proteins and oligonucleotides. More specifically the OBCR group has developed a versatile furan-oxidation based bioconjugation method for the site-selective labeling or introduction of covalent bonds between two binding partners.
The design of novel reactive 'clickable' peptide and oligonucleotide based probes, including peptide nucleic acids, for applications in antisense and antigene strategies, protein and miRNA/lncRNA target identification and receptor pulldown.
 
Biography
Prof. dr. Annemieke Madder obtained her Ph.D. in organic chemistry from Ghent University in 1997. As a national science foundation (FWO) fellow, she went for postdoctoral stays with Prof. Dr. C. Gennari at the University of Milan and with Prof. Dr. R. Strömberg at the Karolinska Institute in Sweden to become acquainted with peptide and oligonucleotide chemistry. She returned to Ghent to take up tenure as assistant professor in 2002 and started her independent career. She was promoted Full Professor at the Department of Organic and Macromolecular Chemistry in 2014 and Senior Full Professor in 2022. Currently she is heading the Organic and Biomimetic Chemistry Research Group (OBCR, currently ca 17 members) specialised in the design and synthesis of modified peptides and nucleic acids and methods for their conjugation and labelling. Over the last 20 years, A. Madder has been productive in peptide and oligonucleotide synthesis and modification. Furthermore, the group has extensive expertise in the use of 1O2 for biomolecule modification. A. Madder recently coordinated a European Network on the use of 1O2 strategy in sustainable oxidation procedures. A. Madder is currently a member of the IOF (Industrial Research Fund) council and serves as substitute member in the Special Research Fund (BOF) council at UGent. She became member of the FWO-Expert panel W&T4 from 2020 onwards. A. Madder has published more than 130 A1 papers in high IF international journals and has supervised 31 successfully defended PhDs, over 80 Masters and 10 postdoctoral fellows. She is currently supervising 8 PhDs, 5 postdoc fellows, 1 technician and 6 master students. 
 
Key publications
Synthesis and structure–activity relationship of peptide nucleic acid probes with improved interstrand-crosslinking abilities: application to biotin-mediated RNA-pulldown. RSC Chemical Biology, 2022. (PMID: 36128507)

Beyond Small Molecules: Targeting G-Quadruplex Structures with Oligonucleotides and Their Analogues. Nucleic Acids Research 2021 (PMID: 33978760)

Furan warheads for covalent trapping of weak protein-protein interactions: cross-linking of thymosin ß4 to actin.Chemical Communications, 2021. (PMID: 34036992)

Teaching Photosensitizers a New Trick: Red Light-Triggered G-Quadruplex Alkylation by Ligand Co-localization. Chemical Communications, 2021.( PMID: 33404017)


 
Contact & links
Lab address: Organic and Biomimetic Chemistry Research Group, Department of Organic and Macromolecular Chemistry, Krijgslaan 281, S4; 9000 Gent
Prof. Madder is interested to receive invitations for presentations or talks