dr. Enrico Cadoni (PhD)
CRIG member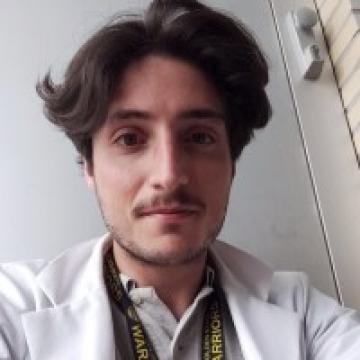 Postdoctoral Researcher – Organic and Biomimetic Chemistry Research Group (OBCR) – Department of Organic and Macromolecular Chemistry, Gent University 
Principal investigator: prof. Annemieke Madder (PhD)
 
Research focus
My research is mainly focused on the in vitro study of light-responsive pro-reactive ligands, to be used in combination with DNA and analogs for targeting and detection of specific DNA/RNA secondary structures. These structures include G-Quadruplexes (G4s) and i-Motifs (iMs), found in relevant proto-oncogene DNA sequences (c-KIT, c-MYC, BCL-2, k-RAS, h-RAS,…) and telomeric ends of DNA, as well as in non-coding RNA sequences (miRNAs, lncRNAs …).  
The main goal is the realization of sequence-specific probes to be used as a chemical-biological tool for studying the effect of interfering with the formation of a specific structure in the whole genome/transcriptome, achieving the maximal selectivity possible. 
On the other hand, I am investigating the use of G4-forming oligonucleotides in decoys strategies for the selective blockade of G4-DNA-binding proteins.
To summarize, the currently ongoing research lines include:
Study of new methodologies for sequence-specific G4 and iM alkylation employing oligonucleotides and analogs (Peptide Nucleic Acids, PNAs);
Realization of G4-decoys for the targeting of specific G4-DNA-binding proteins (telomerase, MAZ …);
Study of synthetic modifications for enhancing the stability of G4-forming oligonucleotides.
 
Key publications
'Beyond small molecules: targeting G-quadruplex structures with oligonucleotides and their analogues'. Nucleic Acids Res. 2021 (PMID: 33978760)

'Teaching photosensitizers a new trick: red light-triggered G-quadruplex alkylation by ligand co-localization'. Chem. Commun., 2021 (PMID: 33404017)

'New (Iso)quinolinyl-pyridine-2,6-dicarboxamide G-Quadruplex Stabilizers. A Structure-Activity Relationship Study.' Pharmaceuticals 2021 (PMID: 34358095)

'Visible-light triggered templated ligation on surface using furan-modified PNAs'. Chem. Sci. 2020 (PMID: 34094412)

'PNA-Based MicroRNA Detection Methodologies'. Molecules 2020 (PMID: 32178411)

'Combining 1,3‐ditriazolyl‐benzene and quinoline to discover a new G‐quadruplex interactive small molecule active against cancer stem‐like cells.' ChemMedChem 2019 (PMID:31162877)

'Design of Modular G-quadruplex Ligands'. ChemMedChem 2018 (PMID: 29512884)


 
Contact & links
Lab address: Department of Organic and Macromolecular Chemistry - Organic and Biomimetic Chemistry Research group (OBCR), Faculty of Sciences, Campus Sterre, Krijgslaan 281, Building S4, 9000 Gent, Belgium
Enrico Cadoni is interested to receive invitations for presentations or talks