prof. Marthe De Boevre (PhD)
CRIG group leader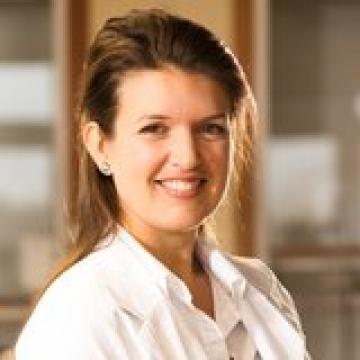 Principal Investigator  - Centre of Excellence in Mycotoxicology & Public Health, Faculty of Pharmaceutical Sciences (UGent)
 
Research focus
Food contamination by microorganisms can occur at various stages, including cultivation, harvest, storage, processing, and distribution. In specific conditions, certain fungi that contaminate crops can produce harmful substances, such as mycotoxins. Various types of mycotoxins, such as aflatoxins, trichothecenes, and fumonisins, can be produced by a range of fungi. These contaminated crops are consumed directly or indirectly through animal products like meat and milk from animals raised on contaminated feed. Mycotoxins can have a wide range of adverse effects on human health, including potential carcinogenicity or DNA damage, and targeting specific organs like the liver, kidney, or intestines.
While the health effects of certain specific mycotoxins have been studied, the impact of long-term consumption of multiple mycotoxins has not been thoroughly investigated. Therefore, the HUMYCO project, which is funded by the European Research Council (ERC), aims to assess the risk of conditions such as hepatocellular, colorectal, and renal cancer resulting from chronic exposure to low levels of multiple mycotoxins. The study will involve large cohorts in Europe and Africa, encompassing approximately half a million participants from ten European countries, including the European Prospective Investigation into Cancer and Nutrition (EPIC) study cohort that commenced in 1992. Researchers will evaluate participants' mycotoxin exposure through dietary questionnaires and the analysis of blood, urine, and feces samples collected at the beginning of the EPIC study. Cohort studies from sub-Saharan Africa, The Netherlands and other are currently in process. In addition, the study will utilize data on mycotoxin levels in foods obtained from the European Food Safety Authority (EFSA) and its member states. To identify mycotoxins associated with cancer risk, dietary intake among cancer cases and biomarker levels in collected biological samples will be compared to those of non-cancer cases. Finally, the study will seek to identify mutations in the genome induced by mycotoxins in both mice and human cells.
Next to that, Prof. De Boevre is coordinator of GLORIA – GEZONDHEIDSMONITOR (Ghent Longitudinal Observational Research Investigating Aging). Aging is a significant challenge in the 21st century, affecting various aspects of society and healthcare systems. A study shows that most people over 45 develop complex diseases, but avoiding smoking, high blood pressure, and obesity can reduce disease severity. GLORIA – GEZONDHEIDSMONITOR will therefore facilitate the follow-up of 20.000 Ghentians in the upcoming 20 years in terms of holistic questionnaires, physical tests and biosampling. The GLORIA – GEZONDHEIDSMONITOR project aims to support research on healthy aging by providing quick access to samples and data (biobank), understanding genetic and lifestyle factors in health, and developing new treatments and tests for better healthcare. For more information you can consult the website www.gezondheidsmonitor.gent or contact Prof. De Boevre immediately via email.
 
Biography
Master in Pharmaceutical Sciences, 2009, Ghent University
Doctor in Pharmaceutical Sciences, 2013, Ghent University (Chemical risks related to food and feed containing masked Fusarium mycotoxins)
Postdoctoral assistant (2013-2021): coordinator of research line 'mycotoxins and public health' at the Centre of Excellence in Mycotoxicology & Public Health
Associate Professor (2021 – to date): Clinical Mycotoxicology at the Centre of Excellence in Mycotoxicology & Public Health
 
Key publications
Dietary mycotoxins, co-exposure, and carcinogenesis in humans: Short review. Mutation Research/Reviews in Mutation Research, 2015. (PMID: 26596546)

Mycotoxin exposure and human cancer risk: A systematic review of epidemiological studies. Comprehensive Reviews in Food Science and Food Safety, 2020. (PMID: 33337079)

Burden of disease associated with dietary exposure to carcinogenic aflatoxins in Portugal using human biomonitoring approach. Food Research International, 2020. (PMID: 32517894)

LC-MS/MS methodology for simultaneous determination of patulin and citrinin in urine and plasma applied to a pilot study in colorectal cancer patients. Food and Chemical Toxicology, 2020. (PMID: 31783110)

Mycotoxin exposure assessments in a multi-center European validation study by 24-hour dietary recall and biological fluid sampling. Environment International, 2020. (PMID: 32035364)

A concise review towards defining the exposome of oesophageal cancer in sub-Saharan Africa. Environment International, 2021. (PMID: 34543937)