prof. Karim Vermaelen (MD, PhD)
CRIG group leader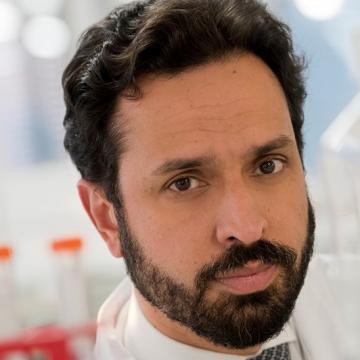 Associate professor, Faculty of Medicine and Health Sciences, UGent
Principal investigator, Thoracic Tumor Immunology Laboratory of the Dept. of Pulmonary Medicine
Co-founder of the ION (Immuno-Oncology Network) Ghent
Board-certified pulmonary physician and thoracic oncologist 
member of the CRIG steering committee (2022-2025)
 
Research focus
Our preclinical research investigates the interactions between lung cancer and the immune system, with a special focus on dendritic cells (DCs). DCs can function as sentinels and alert T-lymphocytes (the soldiers of our immune system) about the presence of danger in our body, including developing tumors.
We have previously uncovered a novel way by which lung tumors corrupts the function of DCs in order to escape immune control. This involves reprogramming of the DC's micro-RNA repertoire. Micro-RNAs are small non-protein coding RNAs that can "veto" the translation of genes into proteins wihin a cell. Intriguingly, the micro-RNA signature of these "corrupt" DCs predicts a worse outcome in lung cancer patients.
We are now exploring the therapeutic potential of immunostimulatory DCs generated in vitro from patient blood. By loading these cells with mRNA prepared from the patient's own tumor, a cellular vaccine is thus obtained. Following years of pre-clinical development, and through close collaboration with the GMP Production Unit of Ghent University Hospital (prof. B. Vandekerckhove), we now have 2 DC vaccine prototypes approved by regulatory authorities for testing on human subjects. Two clinical trials in lung cancer patients are active for recruitment.
In addition, we are building a unique prospective collection of blood samples from immune checkpoint-treated lung cancer patients. Combining flow-cytometry and cutting edge transcriptomic analysis (collaboration with prof. K. De Preter), we will work to uncover patterns in the systemic immuno-reactome that are associated with objective tumor response c.q. resistance to these treatments. The aim is to develop of patient-friendly, minimally-invasive test for therapeutic prediction.
Through the thoracic oncology clinic we are also offering patients a wide portfolio of industry-sponsored clinical studies with the latest immunotherapy combination regimen in lung cancer.
 
Research team
Prof. K. Vermaelen (MD, PhD), group leader
dr. Sandra Van Lint (PhD), post-doctoral fellow
prof. Celine Everaert (PhD), post-doctoral fellow
dr. Zhouhong Ge (PhD), post-doctoral fellow
Julie Braet (MS), doctoral fellow
Amin Zolfaghari, doctoral fellow
Thomas Michiels, doctoral fellow
dr. Dieter Stevens (MD), clinical fellow in thoracic oncology
Amelie Fossoul, lab technician
 
Key publications
Small-scale manufacturing of neoantigen-encoding messenger RNA for early-phase clinical trials. Cytotherapy 2022.

mRNA in cancer immunotherapy: beyond a source of antigen. Molecular Cancer 2021

Dendritic Cell-Based Immunotherapy in Lung Cancer. Front Immunol. 2021

Vaccine Strategies to Improve Anti-cancer Cellular Immune Responses. Front Immunol, 2019

An accelerated, clinical-grade protocol to generate high yields of type 1-polarizing messenger RNA-loaded dendritic cells for cancer vaccination. Cytotherapy, 2018.

Perspectives on the integration of Immuno-Oncology Biomarkers and drugs in a Health Care setting. K Vermaelen, A Waeytens, O Kholmanskikh, M Van den Bulcke, and E Van Valckenborgh. Seminars in Cancer Biology, 2017. [IF 9.141]

The transcriptome of lung tumor-infiltrating dendritic cells reveals a tumor-supporting phenotype and a micro-RNA signature with negative impact on clinical outcome. Oncoimmunology, 2016

Activation of the NLRP3 inflammasome in dendritic cells induces IL-1beta-dependent adaptive immunity against tumors. Nature Medicine, 2009

State-of-the-Art Review: Pulmonary Dendritic Cells. Karim Vermaelen, Romain Pauwels, American Journal of Respiratory and Critical Care Medicine, 2005

Specific migratory dendritic cells rapidly transport antigen from the airways to the thoracic lymph nodes. The Journal of Experimental Medicine, 2001