dr. Sandra Van Lint (PhD)
CRIG member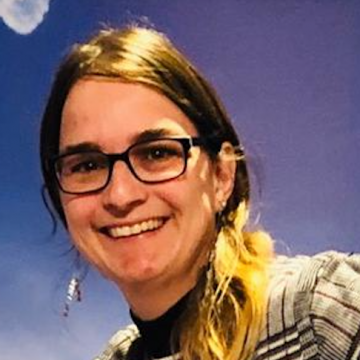 Postdoctoral researcher - Thoracic Tumor Immunology Laboratory - Department of Pulmonary Medicine - UZ/UGent
Principal investigator: prof. Karim Vermaelen (MD, PhD)
Research focus
Lung cancer is a highly prevalent and lethal malignancy. The majority of lung cancer patients are diagnosed at the metastatic stage and due to drug resistance high relapse rates, 5 year overall survival is around 5%.
In the recent years, immune checkpoint blockers (ICB), acting by blocking receptor ligand interactions that cause exhaustion of tumor killer T cells, have revolutionized standard-of-care for several cancer indications. One of the best success stories is non-small cell lung cancer (NSCLC), however only a minority of patients respond, and those who do respond eventually experience disease relapse.
ICB fix only a late step in the chain of events leading to T cell induced tumor destruction (as referred to in the cancer-immunity cycle). Upstream of this is a complex process of tumor antigen uptake, processing and presentation by dendritic cells (DCs). Indeed, DCs perform several critical steps in cancer immunotherapy. However, the overwhelming majority of endogenous DCs are dysfunctional. DC-based immunotherapy aims to replace a critical system that is inherently defective in cancer patients.
We are currently exploring the therapeutic potential of immunostimulatory DCs, generated ex vivo from patient blood as a vaccine regimen for NSCLC patients. A first-in-human clinical trial in patients affected with stage IV non-small cell lung cancer (NSCL) has recently been completed.
My research at the Tumor Immunology Lab of the Dept. of Pulmonary Medicine will now focus on ways to re-engineer DCs in order to make our next-generation DC vaccine. Using a novel humanized mouse model, I will address many unanswered questions regarding optimal combinations of DC vaccination with existing immunotherapeutics. In addition, I am involved in the development of cutting-edge blood- and imaging-based biomarkers that can predict response to immunotherapeutics in lung cancer and maybe beyond.
 
Biography
Sandra Van Lint obtained the certificate Biomedical Laboratory Technology, specialization in Pharmacological and Biological Techniques in 2005. In 2007, she graduated as a master in the Industrial Sciences, specialization Biochemistry after which she started her scientific career at the Vrije Universiteit Brussel (VUB), Belgium. Particularly interested in immunotherapy and tumor biology, she additionally followed an Immunology course at the VUB. Later on, she obtained a PhD in Medical sciences with a focus on the use of mRNA as an immunotherapeutic and medicinal product in the treatment of cancer. During her PhD, she gained particular interest in the dendritic cell, cytotoxic T lymphocyte interplay and activation as well as mRNA-based immunotherapy. Moreover, particular attention was given to the suppressive tumor microenvironment and cells involved in here. In 2015, she joined the AcTakine team of the Cytokine Receptor Lab as a Post-doc to further continue and explore her interest in immunology and the development of immunotherapeutics and (cancer-) vaccines.
From January first 2021, Sandra became lead scientist at the Tumor Immunoloy Laboratory at University Hospital Ghent, focusing on mRNA-based dendritic cell vaccination for the treatment of lung cancer.
 
Key publications
Safe eradication of large established tumors using neovasculature-targeted tumor necrosis factor-based therapies, EMBO Mol Med, 2020 (PMID: 31912630)

Nanoparticle-conjugated TRL7/8 agonist localized immunotherapy provokes safe antitumoral responses, Advanced Materials, 2018 (PMID: 30276880)

Treatment with mRNA coding for the necroptosis mediator MLKL induces antitumor immunity directed against neoantigens, Nature Communications, 2018 (PMID: 30143632)

Delivering Type I interferon to dendritic cells empowers tumor eradication and immune combination treatments, Cancer Research, 2018 (PMID: 29187401)

A safe and highly efficient tumor-targeted type I interferon immunotherapy depends on the tumor microenvironment, Oncoimmunology, 2017 (PMID: 29399401)

Intratumoral delivery of TriMix mRNA results in T cell activation by cross-presenting dendritic cells, Cancer Immunology Research, 2016 (PMID: 26659303)

The potential of antigen and TriMix sonoporation using mRNA-loaded microbubbles for ultrasound-triggered cancer immunotherapy, Journal of Controlled Release, 2014 (PMID: 25151979)

Enhanced suppressive capacity of tumor-infiltrating myeloid-derived suppressor cells compared with their peripheral counterparts, Int J Cancer, 2013 (PMID: 23983191)

Pro-inflammatory characteristics of SMAC/DIABLO-induced cell death in anti-tumor therapy, Cancer Research, 2012 (PMID: 22379024)

Preclinical evaluation of TriMix and antigen mRNA-based anti-tumor therapy, Cancer Research, 2012 (PMID: 22337996)


 
Contact & links
Lab address: MRB2 2nd floor, Ghent University Hospital, Corneel Heymanslaan 10, 9000 Ghent
Sandra Van Lint is interested to receive invitations for presentations or talks