prof. Hans Van Vlierberghe (MD, PhD)
CRIG group leader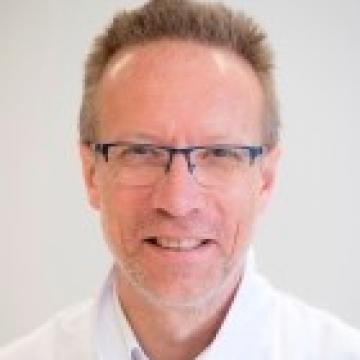 Research focus
Angiogenesis, ER stress and chemoresistance through PlGF inhibition in a mouse model of hepatocellular carcinoma

Hepatocellular carcinoma (HCC) ranks as the fifth most common cancer worldwide (564,000 cases/year) and the third most common cause of cancer mortality. At diagnosis, most patients with HCC are ineligible for curative surgery and can only be offered palliative treatment. Systemic therapy with classical cytotoxic drugs yields low objective response rates without proven survival benefit. Recently, the multikinase inhibitor sorafenib demonstrated a limited survival advantage for patients with advanced HCC. Sorafenib is an oral drug which blocks PDGF-, VEGF-, c-Kit- and raf signaling, both on the tumor cell and the surrounding endothelial cells. Consequently, other drugs need to be developed and novel strategies with complementary mechanisms are required to maximize efficacy and minimize resistance to current therapy with angiogenesis inhibitors or cytotoxic drugs.
Endoplasmic reticulum (ER) stress, which can be induced by intratumoral hypoxia, is present in HCC and could play an essential role in tumor growth and metastasis. Therefore, we investigate the therapeutic potential of agents modulating the ER stress pathways and angiogenesis in HCC.

The role of hypoxia on liver progenitor cells in primary liver cancer

The major primary liver cancers in adults are hepatocellular carcinoma (HCC) and cholangiocarcinoma (CC). These tumours outgrow their vascular supply and become hypoxic. We have shown a possible link between hypoxia in the tumor environment and the differentiation of liver progenitor cells (LPC), holding great potential for therapeutic intervention. Hypoxic conditions in the HCC environment could trigger LPC to differentiate towards a cholangiocytic phenotype, which has a more aggressive phenotype.
 
Expertise to offer
The team of prof. Van Vlierberghe has expertise in HCC analysis via flow cytometry (mouse and human HCC) and developed in vitro assays (including viability assays, colony forming assays and spheroid invasion assays – in different cell lines) and in vivo models (mouse modeling, read more). The team also biobanks human HCC samples. Prof. Van Vlierberghe is open for collaborations with academic and industrial partners.
 
Biography
Honorary European Diploma in Transplantation Medicine September 2011 and since: Fellow of the European Board of Transplantation Medicine
Honorary Member of the Lithuanian Association of Gastroenterology 2014
External reviewer for Fundação para a Ciência e a Tecnologia (FCT), the Portuguese Foundation for Science and Technology.
External reviewer for Swiss National Foundation of Science.
Extern reviewer for Austian Science Fond (Austrian FWO)
 
Key publications
Further pharmacological and genetic evidence for the efficacy of PlGF inhibition in cancer and ocular angiogenesis. Cell, 2010.

Effect of prolyl hydroxylase domain-2 haplodeficiency on the hepatocarcinogenesis in mice. J Hepatol., 2012.


 
Contact
Dept of Gastroenterology and Hepatology, UZ (1K12 IE), Corneel Heymanslaan 10, 9000 Gent
prof. Van Vlierberghe is interested to receive invitations for presentations or talks