prof. Wim Ceelen (MD, PhD)
CRIG group leader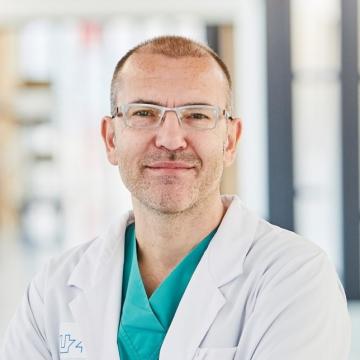 Full professor, Department of Surgery, Ghent University
Director, Experimental Surgery lab, Ghent University
Senior staff, GI Surgery, Ghent University Hospital
 
Research focus
The main research interests of the group are:
Peritoneal carcinomatosis: pathophysiology and treatment
Intraperitoneal drug delivery
Functional imaging in cancer (near infrared; hyperspectral)
Biophysics of tumor tissue
 
Biography
Wim Ceelen graduated as a medical doctor in 1992 at Ghent University (Belgium) and later obtained his PhD at the same university with a doctoral thesis entitled 'Neoadjuvant multimodal therapy in rectal cancer'.
Currently, he is a senior surgeon in the department of Gastrointestinal Surgery at the Ghent University Hospital and was appointed associate professor in surgical oncology at the department of Human Structure and Repair of Ghent University.
He is a Senior Clinical Investigator with the FWO – Vlaanderen and is director of the Laboratory of Experimental Surgery at Ghent University.
Dr Ceelen has an interest in surgical oncology of the digestive tract and the peritoneum. His research includes functional and molecular imaging in animal tumor models, elucidation of biophysical properties of neoplastic tissue, and new approaches to intraperitoneal drug delivery. In addition, he has initiated several clinical trials in cancer patients, and has obtained over 3,5 million Euro in research funding from UGent, Kom op tegen Kanker, Stichting tegen kanker, and the FWO.
He is (co)author of over 190 PubMed cited publications and promoter of 10 completed and 4 ongoing PhD theses.
He has served as president of the Belgian Society of Surgical Oncology and board member of the European Society for Surgical Research.
He is a member of the EORTC GI group, the Cochrane collaboration GI group, the Society of Surgical Oncology (SSO), ESSO, and the American College of Surgeons.
Dr Ceelen is Editor-in -chief of Acta Chirurgica Belgica and associate editor of European Surgical Research, International Journal of Hyperthermia, Pleura and Peritoneum, and Frontiers in Surgical Oncology. 
 
Key publications
Safety and preliminary efficacy of electrostatic precipitation during pressurized intraperitoneal aerosol chemotherapy (PIPAC) for unresectable carcinomatosis.  Willaert W, Van de Sande L, Van Daele E, Van De Putte D, Van Nieuwenhove Y, Pattyn P, Ceelen W.  Eur J Surg Oncol. 2019 Jun 12. pii: S0748-7983(19)30512-8. doi: 10.1016/j.ejso.2019.06.018. (PMID: 31221459)

Establishment of a rat ovarian peritoneal metastasis model to study pressurized intraperitoneal aerosol chemotherapy (PIPAC). Van de Sande L, Willaert W, Cosyns S, De Clercq K, Shariati M, Remaut K, Ceelen W.  BMC Cancer. 2019 May 7;19(1):424. doi: 10.1186/s12885-019-5658-5. (PMID: 31064330)

A 3D CFD model of the interstitial fluid pressure and drug distribution in heterogeneous tumor nodules during intraperitoneal chemotherapy.  Steuperaert M, Debbaut C, Carlier C, De Wever O, Descamps B, Vanhove C, Ceelen W, Segers P.  Drug Deliv. 2019 Dec;26(1):404-415. doi: 10.1080/10717544.2019.1588423.  (PMID: 30929523)

Intraperitoneal aerosolization of albumin-stabilized paclitaxel nanoparticles (Abraxane™) for peritoneal carcinomatosis - a phase I first-in-human study.  Van De Sande L, Graversen M, Hubner M, Pocard M, Reymond M, Vaira M, Cosyns S, Willaert W, Ceelen W.  Pleura Peritoneum. 2018 Jun 8;3(2):20180112. doi: 10.1515/pp-2018-0112. eCollection 2018 Jun 1.  (PMID: 30911657)

HIPEC with oxaliplatin for colorectal peritoneal metastasis: The end of the road?  Ceelen W.  Eur J Surg Oncol. 2019 Mar;45(3):400-402. doi: 10.1016/j.ejso.2018.10.542. Epub 2018 Oct 31. (PMID: 30392745)

Heterocellular 3D scaffolds as biomimetic to recapitulate the tumor microenvironment of peritoneal metastases in vitro and in vivo.  De Jaeghere E, De Vlieghere E, Van Hoorick J, Van Vlierberghe S, Wagemans G, Pieters L, Melsens E, Praet M, Van Dorpe J, Boone MN, Ghobeira R, De Geyter N, Bracke M, Vanhove C, Neyt S, Berx G, De Geest BG, Dubruel P, Declercq H, Ceelen W, De Wever O.  Biomaterials. 2018 Mar;158:95-105. doi: 10.1016/j.biomaterials.2017.12.017. Epub 2017 Dec 23

. 

(PMID: 29306747)

Assessment of Ovarian Cancer Tumors Treated with Intraperitoneal Cisplatin Therapy by Nanoscopic X-ray Fluorescence Imaging. Sci Rep, 2016 (PMID: 27444797)

Nanomedicine-based intraperitoneal therapy for the treatment of peritoneal carcinomatosis - Mission possible? Adv Drug Deliv Rev, 2016 (PMID: 27422808)

Effect of Neoadjuvant Radiation Dose and Schedule on Nodal Count and Its Prognostic Impact in Stage II-III Rectal Cancer. Ann Surg Oncol, 2016 (PMID: 27380639)

Genipin-crosslinked gelatin microspheres as a strategy to 

prevent postsurgical peritoneal adhesions: In vitro and in vivo characterization. Biomaterials, 2016 (PMID: 27135715)

Pretreatment with VEGF(R)-inhibitors reduces interstitial fluid pressure, increases intraperitoneal chemotherapy drug penetration, and impedes tumor growth in a mouse colorectal carcinomatosis model. Oncotarget, 2015 (PMID: 26375674)


 
Contact & links
UZ Gent, Secretariaat GIHK, route 1275, Corneel Heymanslaan 10, B-9000 Ghent, Belgium, +32 9332 6251
prof. Ceelen is interested to receive invitations for presentations or talks