prof. Karolien De Bosscher (PhD)
CRIG group leader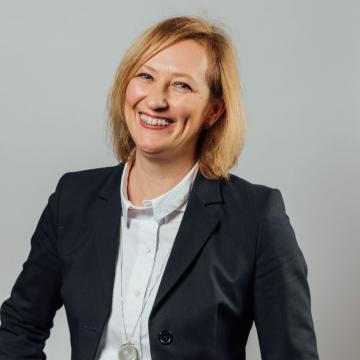 Full professor (Faculty of Medicine and Health Sciences, UGent)  
Expert Scientist at VIB Center for Medical Biotechnology
Co-founder of the foundation Benelux Nuclear Receptors
 
Research focus
Glucocorticoids are essential drugs in the treatment protocols of lymphoid malignancies. These steroidal hormones trigger apoptosis of the malignant cells by binding to the glucocorticoid receptor (GR), which is a member of the nuclear receptor superfamily.
Long term glucocorticoid treatment is limited by two major problems:
glucocorticoid-related side effects, which hampers patient quality of life, and
the onset of glucocorticoid resistance, which is a gradual process that is inevitable in many patients.
This emphasizes the need to re-evaluate and optimize the widespread use of glucocorticoids in lymphoid malignancies.
To achieve these goals, a deep understanding of the mechanisms governing glucocorticoid responsiveness is required. In addition, no clinical test to determine the glucocorticoid responsiveness of patients in an early stage is in place. Hence, glucocorticoid-resistant patients continue to receive extended glucocorticoid treatment, and thus needlessly carry the burden of the glucocorticoid-related side effects.
To resolve this unmet clinical need, we aim to find a set of biomarkers that can be used to determine the onset of glucocorticoid resistance in these patients. Such a diagnostic test would enable faster reorientation of the patients' treatment protocol and would improve the patient's quality of life.
With the latter goal in mind, we recently broadened our scope from sole GR research to a specific focus on specific cross-talk mechanisms involving also other nuclear receptors. As such, we hope to capitalize on a novel topic towards potential therapeutic innovation with high relevance in cancer. 
 
Biography
(°09/12/1973, Zottegem, Belgium; married to Ram Broekaert, two children: Gijs °2003 & Noor °2005)
Karolien De Bosscher obtained her Ph.D degree at UGent (Belgium) in 2000. Following postdoctoral research at the Cancer Research UK supported by an EMBO longterm fellowship (2000-2002), she returned to Gent with an FWO-Vlaanderen postdoctoral fellowship and coordinated nuclear receptor research (2003-2012).
In 2007, she won the prestigious PFIZER Prize and in 2012 she received two prizes: the Prize of the Academy for Fundamental Research in Medicine and the Belgian Endocrine Society Lecture Award.
In 2013 she secured a competitive research professorship grant and combined with academic teaching at the medicine faculty of UGent.
2019 was marked as a professional top year by reeling in a full professorship position via the fast-track system as well as an appointment as expert scientist at the VIB Center for Medical Biotechnology.
K. De Bosscher has a long-standing focus on the anti-inflammatory and anti-cancer action mechanisms of nuclear receptors (GR, PPARs) and on selective glucocorticoid receptor modulation. In recent years her team zooms in on metabolic actions of GR and PPAR, as well as on the benefit of nuclear receptor crosstalk mechanisms (GR,MR) in hematological cancers.
 
Key publications
Latest perspectives on glucocorticoid-induced apoptosis and resistance in lymphoid malignancies.Biochim Biophys Acta Rev Cancer. 2020 Sep 17:188430. doi: 10.1016/j.bbcan.2020.188430. Online ahead of print. PMID: 32950642 Review.

Effect of combining glucocorticoids with Compound A on glucocorticoid receptor responsiveness in lymphoid malignancies. K.PLoS One. 2018 May 8;13(5):e0197000. doi: 10.1371/journal.pone.0197000. eCollection 2018.PMID: 29738549 Free PMC article.

Coregulator profiling of the glucocorticoid receptor in lymphoid malignancies. Oncotarget. 2017 Nov 30;8(65):109675-109691. doi: 10.18632/oncotarget.22764. eCollection 2017 Dec 12.PMID: 29312638 Free PMC article.

Glucocorticoids indirectly decrease colon cancer cell proliferation and invasion via effects on cancer-associated fibroblasts.Exp Cell Res. 2018 Jan 15;362(2):332-342. doi: 10.1016/j.yexcr.2017.11.034. Epub 2017 Nov 28. PMID: 29196164

TYK2-induced phosphorylation of Y640 suppresses STAT3 transcriptional activity. Sci Rep. 2017 Nov 21;7(1):15919. doi: 10.1038/s41598-017-15912-6.PMID: 29162862 Free PMC article.

Glucocorticoid Receptor-mediated transactivation is hampered by Striatin-3, a novel interaction partner of the receptor.Sci Rep. 2017 Aug 21;7(1):8941. doi: 10.1038/s41598-017-09246-6.PMID: 28827617 Free PMC article.

Involvement of the Glucocorticoid Receptor in Pro-inflammatory Transcription Factor Inhibition by Daucane Esters from Laserpitium zernyi. Nat Prod. 2017 May 26;80(5):1505-1513. doi: 10.1021/acs.jnatprod.7b00012. Epub 2017 May 10.PMID: 28489375

Daucane esters from laserwort (Laserpitium latifolium L.) inhibit cytokine and chemokine production in human lung epithelial cells.Phytomedicine. 2017 Mar 15;26:28-36. doi: 10.1016/j.phymed.2017.01.001. Epub 2017 Jan 5.PMID: 28257662

Proteome-scale Binary Interactomics in Human Cells.Mol Cell Proteomics. 2016 Dec;15(12):3624-3639. doi: 10.1074/mcp.M116.061994. Epub 2016 Nov 1.PMID: 27803151 Free PMC article.

Colon cancer-derived myofibroblasts increase endothelial cell migration by glucocorticoid-sensitive secretion of a pro-migratory factor. Vascul Pharmacol. 2017 Feb;89:19-30. doi: 10.1016/j.vph.2016.10.004. Epub 2016 Oct 4. PMID: 27717848 Free PMC article.

Selective glucocorticoid receptor modulation: New directions with non-steroidal scaffolds. Pharmacol Ther. 2015 Aug;152:28-41. doi: 10.1016/j.pharmthera.2015.05.001. Epub 2015 May 6.PMID: 25958032 Review.


 
Contact & links
VIB Center for Medical Biotechnology- UGent Department of Biomolecular Medicine, Technologiepark-Zwijnaarde 75 - 9052 Gent – BELGIUM