prof. Jimmy Van den Eynden (MD, PhD)
CRIG group leader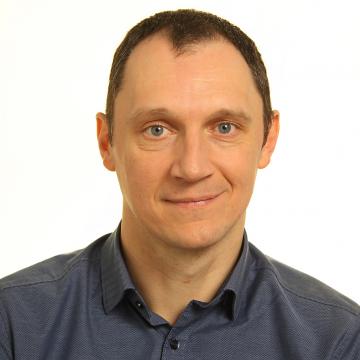 Principal Investigator – Lab of computational cancer genomics and tumor evolution
Assistant professor (Faculty of Medicine and Health Sciences, UGent)
 
Research focus
In the Computational Cancer Genomic and Tumor Evolution (CCGG) lab, we are studying human carcinogenesis, mainly using computational approaches. Our lab has a double focus: tumor evolution and ALK signaling in neuroblastoma.
We are studying different phases of tumor evolution (healthy tissues, primary tumors, metastatic tumors …), mainly based on somatic mutation patterns.  Somatic mutations are small DNA errors that accumulate during lifetime, eventually resulting in the generation of a malignant tumor. Because some of these mutations are under strong evolutionary pressure, studying their patterns has the potential to identify new cancer genes, indicate specific cancer vulnerabilities or unveil fundamental processes that occurred during tumor evolution like tumor-immune interactions, the development of treatment resistance or metastatic behavior.
Our lab also has a special interest in ALK signaling in neuroblastoma and other tumors where ALK alterations have been described as genomic driving events. The aim of our ALK research is to identify new therapeutic targets in these cancers. This research is part of a multidisciplinary collaboration with the labs F. Speleman (Ghent University), R. Palmer and B. Hallberg, both University of Gothenburg (Sweden).
 
Biography
Jimmy Van den Eynden completed his medical studies in 2003.
He obtained a PhD in biomedical sciences in 2010 and an MSc in bioinformatics in 2013.
Since 2013 he is performing cancer genomics research.
He was a postdoc at Ghent University from 2013-2015 and at the University of Gothenburg (Sweden) from 2015-2018.
During this time, he also worked as an EMBO visiting scientist at the Cancer Research UK Cambridge Institute.
Since 2018 he's an assistant professor at Ghent University where he's leading the lab of Computational Cancer Genomics and Tumor Evolution. 
 
Key publications
Lack of detectable neoantigen depletion signals in the untreated cancer genome. Nature Genetics, 2019. (PMID: 31768072) 

ATR inhibition enables complete tumour regression in ALK-driven NB mouse models. Nature Communications, 2021. (PMID: 34819497)

Low immunogenicity of common cancer hot spot mutations resulting in false immunogenic selection signals. PLoS Genetics, 2021. (PMID: 33556087)

ALK ligand ALKAL2 potentiates MYCN-driven neuroblastoma in the absence of ALK mutation. EMBO Journal, 2021 (PMID: 33411331)

11q Deletion or ALK Activity Curbs DLG2 Expression to Maintain an Undifferentiated State in Neuroblastoma. Cell Reports, 2020. (PMID: 32966799)

Phosphoproteome and gene expression profiling of ALK inhibition in neuroblastoma cell lines reveals conserved oncogenic pathways. Science Signaling, 2018. (PMID: 30459281)

Mutational signatures are critical for proper estimation of selection pressures in somatic mutation data using the dN/dS metric. Frontier in Genetics, 2017. (PMID: 28642787)

A clinically annotated post-mortem approach to study multi-organ somatic mutational clonality in normal tissues. Scientific Reports, 2022. (PMID 35725896) Somatic mutation patterns in hemizygous genomic regions unveil purifying selection during tumour evolution. PLoS Genetics, 2016. (PMID: 28027311) 

Pan-cancer transcriptomic analysis associates long non-coding RNAs with key driver mutational events. Nature Communications, 2016. (PMID: 28959951) 


 
Contact & links
Lab address: Department of Human Structure and Repair, Unit of Anatomy and Embryology, Corneel Heymanslaan 10, UZP123, 9000 Ghent, Belgium
Jimmy Van den Eynden is interested to receive invitations for presentations or talks