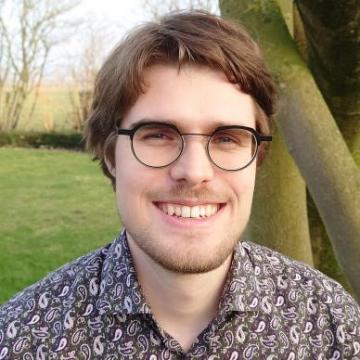 Doctoral fellow - Lab of computational cancer genomics and tumour evolution (Faculty of Medicine and Health Sciences, UGent)
Principal investigator: prof. Jimmy Van den Eynden (MD, PhD)
 
Research focus
My research explores computational approaches to study how the immune system shapes the mutational landscape of tumours.
Carcinogenesis can be regarded as an evolutionary process at the cellular level where cells gradually acquire subsequent somatic mutations that result in a fitness advantage and clonal expansion. A developing tumour is under permanent surveillance by the immune system and needs to develop adaptive mechanisms to evade immune-mediated cancer cell elimination, a process referred to as immunoediting.
The goal of my research is to gain deeper insights in this immunoediting process by studying somatic mutation patterns in large cancer genome sequencing data, ultimately aiming at improving cancer (immuno)therapy responses.
 
Biography
I obtained a Bachelor of Science in Computer Science in 2016 and a Master of Science in Bioinformatics (Engineering track) in 2018, both at Ghent University. In 2019, after completing the first year of the master's programme in biomedical engineering, I joined the lab of Jimmy Van den Eynden as a PhD student.
 
Key publications
"A Clinically Annotated Post-Mortem Approach to Study Multi-Organ Somatic Mutational Clonality in Normal Tissues." SCIENTIFIC REPORTS 12. doi:10.1038/s41598-022-14240-8.  2022.

"ALK Ligand ALKAL2 Potentiates MYCN‐driven Neuroblastoma in the Absence of ALK Mutation." EMBO JOURNAL 40 (3). doi:10.15252/embj.2020105784.  2021.

"Low Immunogenicity of Common Cancer Hot Spot Mutations Resulting in False Immunogenic Selection Signals." PLOS Genetics 17 (2). doi:10.1371/journal.pgen.1009368.  2021.

"ATR Inhibition Enables Complete Tumour Regression in ALK-Driven NB Mouse Models." NATURE COMMUNICATIONS 12 (1). doi:10.1038/s41467-021-27057-2.  2021.

see also Biblio UGent
 
Contact & links
Lab address: Department of Human Structure and Repair, Unit of Anatomy and Embryology, Corneel Heymanslaan 10, UZP123, 9000 Ghent, Belgium