Peter Merseburger
CRIG member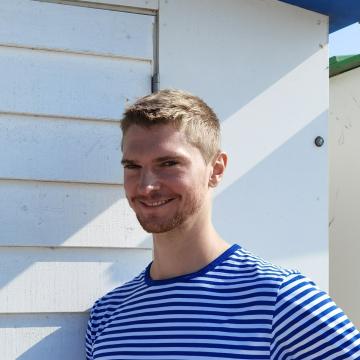 Doctoral fellow - Lab of computational cancer genomics and tumor evolution (Faculty of Medicine and Health Sciences, UGent)
Doctoral fellow - Palmer lab (University of Gothenburg, Sweden) 
Principal investigator: prof. Jimmy Van den Eynden (MD, PhD) and prof. Ruth Palmer (PhD)
 
Research focus
With my research, I want to identify better treatment options for neuroblastoma patients and understand the role of the tumor microenvironment/tumor heterogeneity in drug responses.
I aim to explore the mechanistic basis of drug schemes targeting the ALK/ATR/CHK1/RRM2 pathways using bioinformatic methods. Therefore, I investigate cellular signaling responses to different drug combinations using a multi-omics approach. To understand the immunomodulatory mechanism of drug responses in vivo, I work on the spatial mapping of intra-tumoral heterogeneity and the tumor microenvironment in  MYCN/ALK mutant orthotopic allografts and transgenic mouse models. Moreover, I intend to develop a predictive, robust gene signature for newly developed therapy schemes. 
 
Biography
PhD student since 2023.
Swedish advanced research fellowship. (2022-2023)
Master of Science in Bioinformatics, Ghent University. (2022)
Bachelor of Science in Computer Science, Technical University of Dresden, Germany. (2018) 
Bachelor of Biochemistry/Molecular Biology, Friedrich Schiller University Jena, Germany. (2020)
 
Key publications
Benchmark of tools for in silico prediction of MHC class I and class II genotypes from NGS data. BiorXiv, 2022.

COCONUT online: Collection of Open Natural Products database. J Cheminform, 2021 (PMID: 33423696).


 
Contact & links
Lab address:
1) Department of Human Structure and Repair, Unit of Anatomy and Embryology, Corneel Heymanslaan 10, UZP123, 9000 Ghent, Belgium
2) Department of Medical Biochemistry and Cell Biology, Institute of Biomedicine, Sahlgrenska Academy at the University of Gothenburg, Medicinaregatan 9B, 41390 Gothenburg, Sweden
Peter Merseburger is interested to receive invitations for presentations or talks