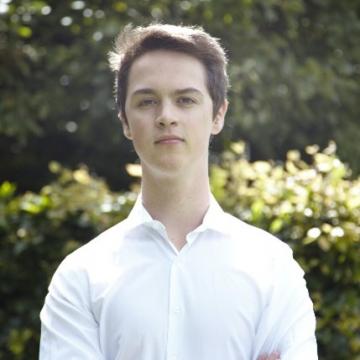 Doctoral fellow - Lab of computational cancer genomics and tumor evolution (Faculty of Medicine and Health Sciences, UGent)
Principal investigator: prof. Jimmy Van den Eynden (MD, PhD) 
 
Research focus
My PhD research focusses on somatic mutation-driven clones in histologically healthy tissues. Emerging evidence suggests that the underlying genomic alterations represent the earliest foundation of human carcinogenesis. We aim to develop and validate an approach based on post-mortem tissues derived from whole-body donors and determine how mutational clonality in different organs is influenced by known carcinogenic mutagens (e.g., cigarette smoke, UV light, radiotherapy…). It concerns a multidisciplinary collaboration between surgical oncologists, human anatomists, histologists and bioinformaticians.  
 
Biography
Master of Science in bioscience engineering: bioinformatics, Ghent University, Ghent, Belgium (2019-2021)
Bachelor in bioscience engineering: cell and gene technology, University of Antwerp, Antwerp, Belgium (2016-2019)
I received the Stand up to Cancer (Kom op tegen Kanker) EVdS PhD starting grant and during the first year of my PhD, I will stay in the lab of E. Larsson at the University of Gothenburg in a collaborative effort to finalize the validation of our methodology.
 
Key publications
Low immunogenicity of common cancer hot spot mutations resulting in false immunogenic selection signals. PLoS Genetics, 2021. (PMID: 33556087) 


 
Contact & links
Lab address: Department of Human Structure and Repair, Unit of Anatomy and Embryology, Corneel Heymanslaan 10, UZP123, 9000 Ghent, Belgium