prof. Dmitri Krysko (MD, PhD)
CRIG group leader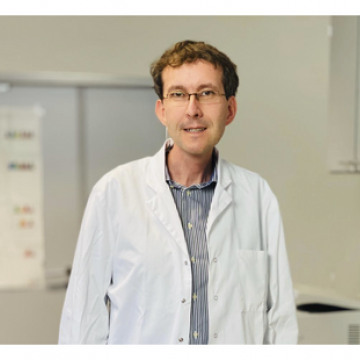 Associate Professor, Head of Cell Death Investigation and Therapy (CDIT) Laboratory, Department of Human Structure and Repair, Faculty of Medicine and Health Sciences, Ghent University
 
Research focus
In the Krysko team, we focus on the elucidation of the molecular mechanisms of immunogenic cell death modalities, with a particular interest on:
Immunogenic cell death: mechanisms, immune responses and cell-based cancer therapy
The type of cancer cell death determines the antitumour immune response and, therefore, contributes to the efficiency of anti-cancer therapy and long-term survival of patients. In mammals, many forms of regulated cancer cell death can occur, including apoptosis, necroptosis and ferroptosis. Within this research project, the CDIT lab strives to understand the molecular mechanisms of immunogenicity of different regulated cell death modalities and to develop novel experimental cancer immunotherapy based on dendritic cell vaccines for glioblastoma and melanoma.
Cancer spheroids and tumour microenvironment
Cancer spheroids are one of the most widely used 3D models which resemble better the tumour microenvironment. The next major focus of CDIT lab is to fully understand the immunomodulatory role of cancer cell death in a three-dimensional context and determine the role of tumour microenvironment on the immunogenicity of cancer cells.
Therapeutic strategies to modulate immunogenicity of cancer cell death
Within this research project, the CDIT strives to develop experimental combinational strategies based on photodynamic therapy and nano-and bio-materials to improve immunological responses to cell death for cancer cell-based immunotherapy.
 
Biography
Prof. Dmitri V. Krysko obtained an M.D. degree from Saratov State Medical University (Russia). During the medical studies he undertook numerous trainings in the top university including university hospital of Heidelberg (Germany) and University of North Carolina at Chapel Hill (USA). Prof. Krysko obtained his Ph.D. degree in Medical and Health Sciences from Ghent University in 2006. He became a laureate of several prestigious scientific Awards: 
2021: Journal for Immunotherapy of Cancer Best Tumor Immunology Paper Award (USA)
2020: Elected top 50 people in medicine by version of Sobaka.ru. (Russia)
2019: GSK Vaccine and Royal Academy of Medicine of Belgium Award in Immunology (Belgium)
2019: AstraZeneca Foundation, FWO and FNRS Award in Oncology (Belgium)
2006: Annual Belgian Society for Microscopy Award in Life Sciences "Outstanding PhD thesis" (Belgium)

From October 2016 Prof. Krysko is appointed as Associate Professor at the Department of Human Structure and Repair at the Faculty of Medicine and Health Sciences in Ghent University where he has established the CDIT laboratory. In 2017, he spent four months in the lab of Prof. Valerian Kagan in Pittsburgh University (USA), the world leader in the field of oxidative lipidomics of ferroptosis. During his carrier, Prof. Krysko obtained several postdoctoral scholarships from the Research Foundation-Flanders (FWO, Belgium) in the group of Prof. Peter Vandenabeele (VIB-Ghent University). 

Prof. Krysko is an Associate Editor of "Frontiers in Immunology" (the Cancer Immunity and Immunotherapy section; impact factor 7.3, Q1) and an Editorial Board Member of "Apoptosis" (impact factor 7.2, Q1); "Cells" (impact factor 6.0, Q2); "Mediators of Inflammation" (impact factor 4.6, Q2) and "Current Cancer Therapy Reviews".

Prof. Krysko is a member of the expert panel for grant reviewing in the Research Foundation -Flanders (Cross-Domain Panel) and he is an elected expert of the Supreme Health Council of Belgium. 

Prof. Krysko organized:
The ICDS Conference: "Cell death: Mechanisms, Immunity and Clinical Applications" May 24-26, 2024, Ghent, Belgium. Organizers: DV Krysko (BE), R Lockshin (USA) and Z Zakeri (USA).
The EMBO Workshop "Phagocytosis of dying cells: molecules, mechanisms, and therapeutic implications" October 24-27, 2018, Ghent, Belgium. http://meetings.embo.org/event/18-phagocytosis. Organizers: KS Ravichandran (USA/BE) and DV Krysko (BE). Co-organizers: K Lauber (GE), F Peri (CH), P Agostinis (BE) and P Vandenabeele (BE).
The First Ghent University – Kanazawa University Joint Seminar on "Cell death modalities: regulation, phagocytosis and relevance to diseases." February 6, 2018, Ghent, Belgium. Organizers: DV Krysko (BE) and P Vandenabeele (BE). http://www.cedar-ic.ugent.be/cedar-ic-seminar/.
33 European SocieTy for Radiotherapy and Oncology (ESTRO) Conference, April 4-8, 2014, Vienna, Austria. Course directors: P. Lambin and DV Krysko. Radiobiology pre-meeting course: current advancements in immunotherapy and radiotherapy.
 
Key publications
'Mechanobiology of ferroptotic cancer cells as a novel "Eat-Me" signal: regulating efferocytosis through layer-by-layer coating'. Advanced Healthcare Materials, 2023 (PMID: 37273241)

'DC vaccines loaded with glioma cells killed by photodynamic therapy induce Th17 anti-tumor immunity and provide a four-gene signature for glioma prognosis'. Cell Death and Disease, 2022 (PMID: 36539408 

'Ferroptosis and Photodynamic Therapy Synergism: Enhancing Anticancer Treatment'. Trends in Cancer, 2021 (PMID: 33640304)

'Targeting immunogenic cancer cell death by photodynamic therapy: past, present and future'. Journal for Immunotherapy of Cancer, 2021 (PMID: 33431631)

'Vaccination with early ferroptotic cancer cells induces efficient antitumor immunity'. Journal for Immunotherapy of Cancer, 2020 (PMID: 33188036)

'A 3D Cell Death Assay to Quantitatively Determine Ferroptosis in Spheroids'. Cells, 2020 (PMID: 32183000)

'Ferroptosis at the cross-roads of cancer-acquired drug resistance and immune evasion.' Nature Reviews Cancer, 2019 (PMID: 31101865)

'Immunogenic cell death induced by a new photodynamic therapy based on photosens and photodithazine'. Journal for Immunotherapy of Cancer, 2019. (PMID: 31842994

'Vaccination with necroptotic cancer cells induces efficient anti-tumor immunity'. Cell Reports, 2016 (PMID: 27050509)

'Necroptosis: the release of damage-associated molecular patterns and its physiological relevance.' Immunity, 2013 (PMID: 23438821)

'Immunogenic cell death and DAMPs in cancer therapy.' Nature Reviews Cancer, 2012 (PMID: 23151605)

'Macrophages use different internalization mechanisms to clear apoptotic and necrotic cells.' Cell Death and Differentiation, 2006 (PMID: 16628234) 


 
Contact & links
Corneel Heymanslaan 10, 4B3, 9000 Ghent, Belgium
prof. Krysko is interested to receive invitations for presentations or talks