prof. Dmitri Krysko (MD, PhD)
CRIG group leader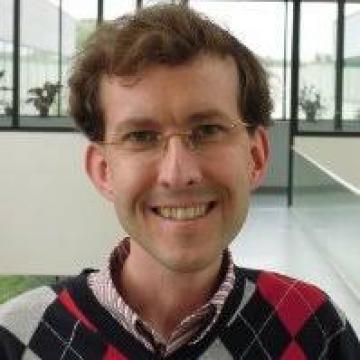 Associate professor, Department of Human Structure and Repair, Faculty of Medicine and Health Sciences, Ghent University
 
Research focus
In the Krysko team, we focus on the elucidation of the molecular mechanisms of immunogenic cell death modalities, as well as immune responses, with a particular interest on how immunogenic cell death modalities induce activation of anti-tumor immunity. This group is currently characterizing the immunogenic cell death modalities in in vitro and in vivo models of cancer. This work will lead from the understanding of the fundamental mechanisms of immunogenic cell death modalities to validation of concepts in cancer disease models. The final result will help to guide new strategies for the amelioration of existing treatments.
 
Biography
Prof. Dmitri V. Krysko obtained a Ph.D. degree in Medical and Health Sciences from Ghent University in 2006. He also holds an M.D. degree from Saratov State Medical University (Russia). In 2006 he became a laureate of the Annual Belgian Society for Microscopy Award in Life Sciences for the "Outstanding PhD thesis".

Dr. Krysko obtained a postdoctoral scholarship from The Research Foundation-Flanders (FWO, Belgium) in the group of Peter Vandenabeele in the Molecular Signalling and Cell Death Unit at VIB-Ghent University. During his postdoctoral training Dr. Krysko established a team aiming to understand molecular mechanisms of immunogenic cell death modalities in cancer therapy. He published more then 75 articles in the international peer-reviewed journals (e.g. Nature Reviews Cancer, Immunity, Trends in Immunology, Trends in Molecular Medicine, Cell Reports, EMBO J and Cell Death and Differentiation).

Dr. Krysko is an Editorial Board Member of "Apoptosis" and "Mediators of Inflammation." Dr. Krysko organized: 
The EMBO Workshop "Phagocytosis of dying cells: molecules, mechanisms, and therapeutic implications" October 24-27, 2018, Ghent, Belgium. http://meetings.embo.org/event/18-phagocytosis.  Organizers: KS Ravichandran (USA/BE) and DV Krysko (BE). Co-organizers: K Lauber (GE), F Peri (CH), P Agostinis (BE) and P Vandenabeele (BE).
The First Ghent University – Kanazawa University Joint Seminar on "Cell death modalities: regulation, phagocytosis and relevance to diseases." February 6, 2018, Ghent, Belgium. Organizers: DV Krysko (BE) and P Vandenabeele (BE). http://www.cedar-ic.ugent.be/cedar-ic-seminar/.
33 European SocieTy for Radiotherapy and Oncology (ESTRO) Conference, April 4-8, 2014, Vienna, Austria. Course directors: P. Lambin and DV Krysko. Radiobiology pre-meeting course: current advancements in immunotherapy and radiotherapy 
From October 2016 he is appointed as associate professor at the Department of Human Structure and Repair at the Faculty of Medicine and Health Sciences in Ghent University. 
 
Key publications
'Ferroptosis at the cross-roads of cancer-acquired drug resistance and immune evasion.' Nature Reviews Cancer 2019. (PMID: PMID: 31101865)

'An emerging role for nanomaterials in increasing immunogenicity of cancer cell death.' Biochimica et Biophysica Acta-Review on Cancer. 2019. (PMID: PMID: 30528646)

'Macrophages regulate the clearance of living cells by calreticulin.' Nature Communications, 2018. (PMID: PMID: 30405101)

'Necroptotic cell death in anticancer therapy.' Immunological Reviews. 2017. (PMID: PMID: 29027225)

'Ferroptosis: Oxidized PEs trigger death.' Nature Chemical Biology, 2017. (PMID: PMID: 27842067)

'Vaccination with necroptotic cancer cells induces efficient anti-tumor immunity'. Cell Reports, 2016. (PMID: 27050509)

'Necroptosis: the release of damage-associated molecular patterns and its physiological relevance.' Immunity, 2013. (PMID: 23438821)

'Immunogenic cell death and DAMPs in cancer therapy.' Nature Reviews Cancer, 2012. (PMID: 23151605)

'TLR-2 and TLR-9 are sensors of apoptosis in a mouse model of doxorubicin-induced acute inflammation.' Cell Death Differentiation, 2011. (PMID: 21311566)

'Emerging role of damage-associated molecular patterns derived from mitochondria in inflammation.' Trends in Immunology, 2011. (PMID: 21334975)

'Macrophages use different internalization mechanisms to clear apoptotic and necrotic cells.' Cell Death and Differentiation, 2006. (PMID: 16628234)


 
Contact & links
Corneel Heymanslaan 10, 4B3, 9000 Ghent, Belgium
prof. Krysko is interested to receive invitations for presentations or talks