prof. Charles Van Praet (MD, PhD)
CRIG member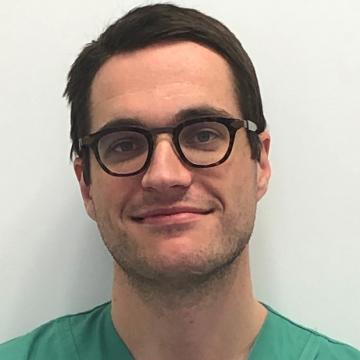 Research focus
Our overall goal is to improve diagnostics and treatments in urologic cancers.
Prostate cancer:
- Role of cytoreductive prostatectomy in metastatic prostate cancer patients.
- Role of PSMA PET-CT in staging of clinically localized prostate cancer and impact on therapeutic approach and outcome.
Kidney cancer:
- Improving pre-operative planning for robot-assisted partial nephrectomy with 3D models including kidney perfusion. This may lead to safer surgery, more healthy tissue sparing and better patient outcomes. 
 
Biography
I am an oncologic urologic surgeon at UZ Gent. My clinical focus is diagnosis and treatment of urologic cancers and robotic surgery.
I graduated as a medical doctor in 2012 at Ghent University and started my training in Urology. I was trained at OLV Waregem, AZ Sint-Lucas Gent and UZ Gent. I took part in several national and international courses, mainly focusing on uro-oncology and robotic surgery.
In 2017 I presented my PhD thesis under the supervision of Prof. Nicolaas Lumen on "Evaluation of novel treatments in prostate cancer: concerning innovations in the field of minimal-invasive surgery, whole-pelvis radiotherapy and hormonal therapy with abiraterone acetate".
In 2019 I finished my training in Urology and started working UZ Gent. Furthermore, I became a fellow of the European Board of Urology.
In 2022 I was as appointed as Professor Urologic Oncology at Ghent University.
 
Key publications
'Capillary electrophoresis of urinary prostate glycoproteins assists in the diagnosis of prostate cancer'. Electrophoresis, 2014. (PMID: 24254641)

'Urinary Prostate Protein Glycosylation Profiling as a Diagnostic Biomarker for Prostate Cancer'. Prostate,  2015. (PMID: 25358590)

'Release of urinary extracellular vesicles in prostate cancer is associated with altered urinary N-glycosylation profile'. Journal of Clinical Pathology, 2017. (PMID: 28360190)

'Androgen Receptor Gene Copy Number and Protein Expression in Treatment-Naïve Prostate Cancer'. Urologia Internationalis, 2017. (PMID: 28052297)

'Prognostic Features of Near-Infrared Spectroscopy Following Primary Radical Prostatectomy'. Cancers, 2021. (PMID: 34885144)


 
Contact & links
Lab address: uro-oncology, Ghent University Hospital 1B2
Charles Van Praet is interested to receive invitations for presentations or talks