prof. Stefaan De Smedt (PhD)
CRIG group leader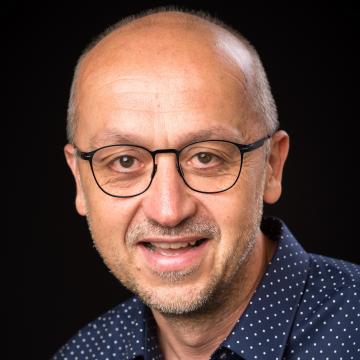 Research focus
The Ghent Research Group on Nanomedicines, in daily collaboration with the Bio-photonic Imaging Group, is involved in (especially) pre-clinical research on nanomedicines; More specifically, GeRN designs nanoscopic carriers to improve (i) targeted, (ii) intracellular delivery of nucleic acids (siRNA, µRNA, mRNA, pDNA), being a whole class of molecules which are not yet clinically used though under intensive development. Besides on the design of such delivery materials, GeRN focuses on how nanomedicines biophysically behave after administration, both in extracellular fluids (like blood, lung sputa, gastric fluids, intraperitoneal fluids,…) as well as in the intracellular environment. In the coming years, exploring the 'delivery potential' of nanomedicines for biotechnological drugs will remain the major research theme of our group. Emphasis will be on (i) pulmonary delivery of siRNA (aimed at the treatment of lung cancer, viral infections), (ii) intravitreal delivery of nanomedicines (retinal diseases), (iii) subcutaneous delivery of mRNA loaded nanomedines to target dendritic cells (cancer vaccination) and (iv) intraperitoneal administration of nanomedicines (cancer).
 
Biography
Professor Stefaan De Smedt is full professor and founder of the Ghent Research Group on Nanomedicines. He served as dean of the Faculty of Pharmaceutical Sciences at Ghent University from 2010 till 2014. Since 2014 he is a member of the Board of Directors of Ghent University and is fully involved in the Ghent Research Group on Nanomedicines. In 2015 he has been elected as member of the Belgian Royal Academy of Medicine.
Dr. S.C. De Smedt received the Scott Blair Biorheology Award,  the Controlled Release Society Young Investigator Award 2006 and the APV Research Award 2010 for Outstanding Research Achievements in Pharmaceutical Sciences. In 2016 he and his co-worker Dr. Koen Raemdonck received the T. Nagai research Achievement Award.
Dr. S.C. De Smedt is/has been a member of a number of Belgian and (non-)European scientific expert panels, like the panel of 'pharmaceutical sciences and protein chemistry' of the Flemish Fund for Scientific Research (FWO), the panel of US-Israel Binational Science Foundation, the panel of Health and Health Services Research Fund of Hong Kong, the expert panel of the Academy of Finland, the expert panel of the Agence Nationale de la Recherche. Since 2004, dr. De Smedt serves as the European Associate Editor of the Journal of Controlled Release; In 2015 he became Editor of JCR. Since 2012 he is one of the key organizers of the European Symposium of Controlled Drug Delivery.
 
Key publications
Cationic Polymer Based Gene Delivery Systems

Encoding Microcarriers by Spatial Selective Photobleaching. Nature Materials 2003, 2, 169-173

Self-Rupturing Microcapsules. Advanced Materials 2005, 17, 2357-2361

Advanced nanogel engineering for drug delivery. Soft Matter 2009, 5(4): 707-715

The use of inhibitors to study endocytic pathways of gene carriers: optimisation and pitfalls. Molecular Therapy 2010, 18(3): 561-569

Sizing Nanomatter in Biological Fluids by Fluorescence Single Particle Tracking. Nano Letters 2011, 10 (11), 4435-4442

Sizing nanomaterials in bio-fluids by cFRAP enables protein aggregation measurements and diagnosis of bio-barrier permeability. Nature Communications 2016

Broadening the Message: A Nanovaccine Co-Loaded with Messenger RNA and α-GalCer Induce Antitumor Immunity through Conventional and Natural Killer T Cells. ACS Nano 2019, accepted

Photothermal nanofibers enable safe engineering of therapeutic cells. Nature Nanotechnology 2021 

Laser-induced nanobubbles safely ablate vitreous opacities in vivo. Nature Nanotechnology 2022


 
Contact & links
address: Department of Pharmaceutics, Ottergemse Steenweg 460, 9000 Gent
prof. De Smedt is interested to receive invitations for talks and presentations