prof. Karen Geboes (MD, PhD)
CRIG member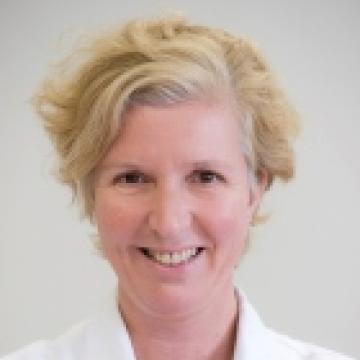 Head of clinic – Gastroenterology (Digestive Oncology) UZ Gent
 
Research focus
Prof. Dr. Geboes focuses on all tumors of the gastro-intestinal system and the development of new treatments for these disorders. Prof. dr. Geboes also has expertise in neuroendocrine tumors and gastrointestinal stromal tumors. Prof. Geboes is also active in several multidisciplinary teams for digestive oncology, at UZ Gent and beyond. She participates in the Phase I steering committee and is involved in the Immuno-Oncology Network (ION).
 
Biography
K. Geboes studied medicine at KU Leuven where she also obtained her doctorate. She was trained as a gastroenterologist at the UZ Leuven, and specialized in digestive oncology at the university hospital of Nantes. She also taught at the university.
Prof. dr. Dr Karen Geboes is head of the department of Gastrointestinal and intestinal diseases at UZ Gent and professor at Ghent University. She is associate editor of Acta Gastro-Enterologica Belgica.
 
Research team
Marc De Man – co-investigator
Suzane Ribeiro – co-investigator
Tom Holvoet – co-investigator
 
Key publications
Machiels JP, Salazar R, Rottey S, Duran I, Dirix L, Geboes K, Wilkinson-Blanc C, Pover G, Alvis S, Champion B, Fisher K, McElwaine-Johnn H, Beadle J, Calvo E. A phase 1 dose escalation study of the oncolytic adenovirus enadenotucirev, adminstered intravenously to patients with epithelial solid tumors (EVOLVE). J Immunother Cancer. 2019 Jan 28;7(1):20.

Meireson A, Chevolet I, Hulstaert E, Ferdinande L, Ost P, Geboes K, De Man M, Van de Putte D, Verset L, Kruse V, Demetter P, Brochez L. Peritumoral endothelial indoleamine 2, 3-dioxygenase expression is an early independent marker of disease relapse in colorectal cancer and is influenced by DNA mismatch repair profile. Oncotarget. 2018; 9(38): 25216-25224. 

Vandeputte C, Kehagias P, El Housni H, Ameye L, Laes JF, Desmedt C, Sotiriou C, Deleporte A, Puleo F, Geboes K, Delaunoit T, Demolin G, Peeters M, D'Hondt L, Janssens J, Carrasco J, Marechal R, Galdon MG, Heimann P, Paesmans M, Flamen P, Hendlisz A. Circulating tumor DNA in early response assessment and monitoring of advanced colorectal cancer treated with a multi-kinase inhibitor. Oncotarget. 2018; 9(25): 17756-17769. 

Berardi G, De Man M, Laurent S, Smeets P, Tomassini F, Ariotti R, Hoorens A, van Dorpe J, Varin O, Geboes K, Troisi RI. Radiologic and pathologic response to neoadjuvant chemotherapy predicts survival in patients undergoing the liver-first approach for synchronous colorectal liver metastases. Eur J Surg Oncol. 2018; 44(7): 1069-1077.

Vanbutsele G, Pardon K, Van Belle S, Surmont V, De Laat M, Colman R, Eeclo K, Cocquyt V, Geboes K, Deliens L. Effect of early and systematic integration of palliative care in patients with advanced cancer: a randomised controlled trial. Lancet Oncol. 2018; 19(3): 394-404.

Kasai M, Van Damme N, Berardi G, Geboes K, Laurent S, Trois RI. The inflammatory response to stress and angiogenesis in liver resection for colorectal liver metastases: a randomized controlled trial comparing open versus laparoscopic approach. Acta Chir Belg 2017; 27: 1-9

Nobels A, Geboes K, Geerts PJ, Van Damme R, Lemmens GMD. Treatment with Selective Serotonin Reuptake Inhibitors (SSRI's) for depressed or anxious patient with carcinoid syndrome: a relative contraindication/ a feasible treatment option? Acta Oncol. 2016; 55(11): 1370-1372

Hav M, Libbrecht L, Ferdinande L, Geboes K, Pattyn P, Cuvelier CA.Pathologic Assessment of Rectal Carcinoma after Neoadjuvant Radio(chemo)therapy: Prognostic Implications. Biomed Res Int. 2015; 574540. 

Mampaey E, Fieuw A, Van Laethem T, Ferdinande L, Claes K, Ceelen W, Van Nieuwenhove Y, Pattyn P, De Man M, De Ruyck K, Van Roy N, Geboes K, Laurent S. Focus on 16p13.3 Locus in Colon Cancer. PLoS One. 2015; 10(7): e0131421.

Montalti R, Tomassini F, Laurent S, Smeets P, De Man M, Geboes K, Libbrecht LJ, Troisi RI. Impact of surgical margins on overall and recurrence-free survival in parenchymal-sparing laparoscopic liver resections of colorectal metastases. Surg Endosc. 2015; 29(9):2736-47.



 
Contact & links
Lab address: Gastro-enterologie en hepatologie, campus UZ Gent, entrance 12 (K12), route 1325
member of Vlaamse Vereniging voor Gastro-enterologie (VVGE)
member of Belgian Group of Digestive Oncology (BGDO), board member
member of Erkenningscommissie maag- en darmziekten, expert oncologie
member of International Biliary Tract Cancer Collaborators (IBTCC)
member of European Neuroendocrine Tumor Society (ENETS)
member of European Organisation for Research and Treatment of Cancer (EORTC)
member of European Society of Medical Oncology (ESMO)
member of European Society of Digestive Oncology (ESDO)
member of American Society of Clinical Oncology (ASCO)
Prof. Geboes is interested to receive invitations for presentations or talks