prof. Esther Hoste (PhD)
CRIG group leader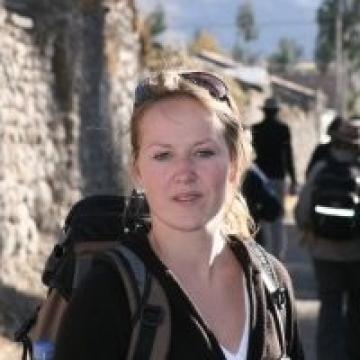 Assistant professor  – Unit for Cellular and Molecular (Patho)physiology,
Principal investigator – Subunit Keratinocyte microenvironment lab, Inflammation Research Center, VIB-UGent
 
Research focus
My team focusses on understanding the cellular and molecular crosstalk between keratinocytes- the epithelial cells of the skin- and their microenvironment in health and disease. During injury, fast repair mechanisms are critical to maintain the skin's barrier function and we study how epidermal stem cells communicate with fibroblasts and immune cells to orchestrate inflammation and subsequent tissue regeneration. However, wound repair can predispose tissues to cancer initiation and we aim to identify novel molecular mechanisms through which inflammation, cell death and fibrosis modulate epidermal stem cells and impact on skin regeneration and neoplasia. 
To dissect how intercellular crosstalk in the skin orchestrates inflammation, injury repair and/or tumour initiation, we are addressing four key questions:
What are the molecules that are released during cutaneous injury repair and how do they modulate regenerative and neoplastic responses?
Which molecular pathways control the activation of epidermal stem cells? 
How do different modalities of keratinocyte cell death influence the skin's tissue response?
Can we manipulate molecular signaling pathways in the skin to improve tissue regeneration, while preventing tumour initiation?
 
Biography
Previous professional appointments:
2019-present: UGent Assistant Professor and VIB Team Leader 
2015-2022: FWO fellow at the Inflammation Research Center (VIB-UGent)
2012-2015: Research Associate at the Centre for Stem Cells and Regenerative Medicine (King's College London).
2010-2012: Marie Curie Experienced Researcher at the Cambridge Research Insitute (Cancer Research UK-Cambridge University).
2004-2010: PhD student at Department for Molecular Biomedical Biology (VIB-UGent)
 
Key publications
OTULIN maintains skin homeostasis by controlling keratinocyte death and stem cell identity. Nature Communications, 2021. (PMID: 34625556)
Fibrotic enzymes modulate wound-induced skin carcinogenesis. EMBO Reports, 2021. (PMID: 33780134)
Epithelial-derived HMGB1 delays skin wound healing and drives tumour initiation by priming neutrophils for NET formation. 2019. (PMID: 31775038)
Innate sensing of microbial products promotes wound-induced skin cancer. Nature Communications, 2015. (PMID: 25575023)
Epithelial stem cells, wound healing and cancer'. Nature Reviews in Cancer, 2012. (PMID: 22362215) 
 
Contact & links
Unit for Cellular and Molecular (Patho)physiology, Inflammation Research Center (VIB-UGent), Technologiepark 71, 9052 Gent-Zwijnaarde