dr. Tijl Vermassen (PhD)
CRIG member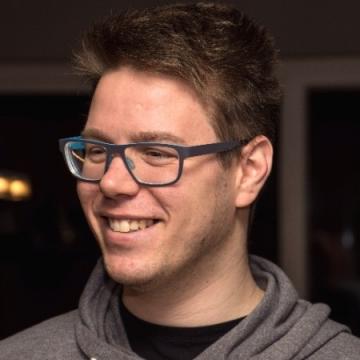 Research focus
My research topics are glycomics, protein chemistry and immunology.
Firstly, glycomics are a very interesting topic as aberrant glycosylation is a typical feature in cancer. Glycomics can therefore be applied as biomarker for diagnosis and prognosis of various cancer types. The most ideal about this biomarker is that it can be measured in serum as well as in urine. We have reported that urine N-glycosylation could be useful in the diagnosis of prostate cancer. Currently, we are continuing on this project towards implementation of this test in routine daily practice.
Secondly, protein chemistry can also play a role in cancer. Due to the polymorphic nature of proteins, study of these polymorphisms is interesting in certain cancers. For instance haptoglobin, which can present itself in 3 different phenotypes, can have a profound effect  on cancer. In this matter, we are evaluating the prognostic effect of the three haptoglobin phenotypes in metastatic kidney cancer.
Lastly, immunology in cancer research is a hot topic with the recent use of PD-1 and PD-L1 therapeutic antibodies and their complementary diagnostic antibodies to determine tumor PD-L1 expression. Although extensive research has been performed in melanoma, lung cancer and kidney cancer, the current knowledge of PD-1/PD-L1 and their association with the tumor microenvironment in head and neck cancer is scanty. Therefore, we are performing research into the PD-L1 expression of head and neck cancer to evaluate its effect on outcome and to determine the pathological pitfalls of the different PD-L1 diagnostic antibodies in this tumor type.
Key publications
TILs in Head and Neck Cancer: Ready for Clinical Implementation and Why (Not)? Head and Neck Pathology 2016 (PMID: 28032290)

CD70 Expression and Its Correlation with Clinicopathological Variables in Squamous Cell Carcinoma of the Head and Neck. Pathobiology 2016 (PMID: 27389010)

Therapeutic approaches in clear cell and non-clear cell renal cell carcinoma. Acta Clinica Belgica 2016 (PMID: 27356035)

Urinary prostate protein glycosylation profiling as a diagnostic biomarker for prostate cancer. Prostate 2015 (PMID: 25358590)

Capillary electrophoresis of urinary prostate glycoproteins assists in the diagnosis of prostate cancer. Electrophoresis 2014 (PMID: 24254641)

Glycosylation of prostate specific antigen and its potential diagnostic applications. Clinica Chimica Acta 2012 (PMID: 22722018)
Contact
Address: Department Medical Oncology, 2B2, UZ Gent, Corneel Heymanslaan 10, 9000 Gent