dr. Marjolein Orije (PhD)
CRIG member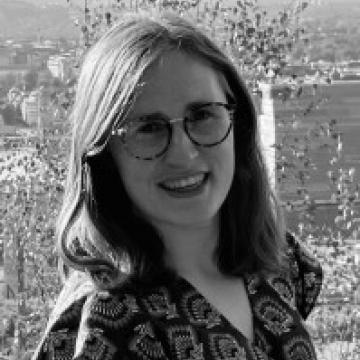 Post-doctoral researcher – Medical Oncology - Department of Internal Medicine and Pediatrics (UGent)
Post-doctoral researcher – Laboratory of Experimental Cancer Research (UGent)
Principal investigator: Prof. Hannelore Denys (MD, PhD)
 
Research focus
Improving the patients' long-term outcomes by maximizing treatment efficacy and minimizing treatment related and financial toxicity, is needed. Identification of new biomarkers could help achieve this goal. Liquid biopsy approaches have arisen as an interesting opportunity to monitor biomarkers in a minimal invasive, longitudinal, sensitive, easily accessible, and cheap manner. In this aspect, extracellular vesicles (EVs) have recently demonstrated new biomarker potential against invasive tissue biopsy collection. EVs are nanosized lipid bilayer-surrounded particles that are secreted by almost every cell type, hereby forming a spatiotemporal fingerprint of the cell of origin that remains stable within the liquid biopsy. Tumor cells are known to produce large amounts of EVs, pointing to the potential diagnostic, prognostic, and predictive use of EV-derived information in cancer research.
Next to EVs, dynamic evaluation of our immune system could offer biomarker potential, as our immune system is an important determinant of how the body eliminates the tumor and responds to therapy. 
With a focus on gynaecological cancer patients, my research aims to explore the role of EVs as communication vehicles between the tumor and the immune system.
 
Biography
I performed a PhD at the Centre for the Evaluation of Vaccination, University of Antwerp. Promotors: Professor Elke Leuridan, MD, PhD; Professor Pierre Van Damme, MD, PhD; Professor Benson Ogunjimi, MD, PhD; Professor Kirsten Maertens, PhD. Here, I gained experiences in immunology, vaccinology, clinical trials, cell-cultures, statistics, and flow cytometry.
 
Contact & links
Lab address: Department of Medical Oncology (Route 535; entrance 50), Ghent University Hospital, C. Heymanslaan 10, B-9000, Ghent, Belgium
Marjolein Orije is interested to receive invitations for presentations or talks