prof. Tim Lammens (PhD)
CRIG group leader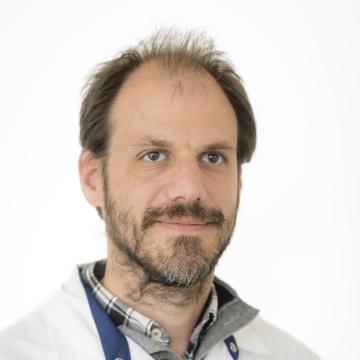 Principal investigator – Lab for pediatric hematology-oncology, Ghent University Hospital, Ghent
Associate professor (Faculty of Medicine and Health Sciences, UGent)
Laboratory supervisor – Lab for asparaginase monitoring, Ghent
 
Research focus
Our goal is to contribute to increase the cure rates of pediatric cancer and decrease the therapy-related late effects within survivors. 
We are keeping our focus on various pediatric cancer types i.e. pre-B ALL, JMML, AML and neuroblastoma. Our research key areas within the specific focus include: i) working on cancer predisposition by identifying new oncogenes and tumor suppressors and defining their mechanisms of action in families with multiple affected children and immunodeficient children which are prone to develop cancer; ii) preclinical evaluation of new treatments; iii) establishing strategies to develop highly specific personalized drug therapies, iv) offering real-time monitoring of therapeutic drug levels during treatment of childhood cancer, in order to ensure efficacy of therapy and identify genetic factors influencing toxicity. and vi) actively participating to a diverse array of clinical trials.
These studies are carried out by employing genome-wide screening techniques at the DNA level (array CGH, whole genome and candidate gene DNA sequencing) as well as at the RNA level (gene expression and microRNA profiling). In addition, we employ high- end flow sorting and single-cell transcriptomics. Therapeutic asparaginase-monitoring is performed using spectrophotometry, with a quality assurance system in place. In addition, biobanking within national and international clinical trials is a core activity.
Importantly, the optimal translation of the fundamental and applied research into children benefit (short-and long-term) is a major aspect throughout all our research lines
 
Biography
SCIENTIFIC DEGREES
 2003: Msc. Industrial engineering biochemistry
 2004: Msc. Molecular biotechnology
 2009: PhD molecular biotechnology
PROFESSIONAL CAREER
 2004-2009: PhD student, Ghent University
 2009-present: postdoctoral fellow, Department of Pediatric Hematology-Oncology, Ghent University
 2015-2020: assistant professor, Ghent University
 2020-present: associate professor, Ghent University
MEMBERSHIPS
Member of BSPHO, SIOP, BHS, EWOG-MDS, EORTC-CLG, I-BFM AML, IntReALL and SIOPE Host Genome working groups
Member of advisory board TBM RAPID
Chair of Molecular Monitoring Committee SIOPEN
Member of Scientific Translational Committee SIOPEN
Member of Working Group on Preclinical and Translational Research for CHIP-AML21 
Member of the Biobanking Committee Alltogether study
Member of the Biology Committee Interfant

 
Key publications
'Whole genome sequencing and inheritance-based variant filtering as a tool for unravelling missing heritability in pediatric cancer`. Pediatr Hematol Oncol. 2022 (PMID: 35876323)

`Deciphering the non-coding RNA landscape of pediatric acute myeloid leukemia`. Cancers. 2022 (PMID: 35565228)

`The feasibility of using liquid biopsies as a complementary assay for copy number aberration profiling in routinely collected paediatric cancer patient samples'. Eur J Cancer. 2022 (PMID: 34794856)

'CircRNAs Dysregulated in Juvenile Myelomonocytic Leukemia: CircMCTP1 Stands Out'. Front Cell Dev Biol. 2021 (PMID: 33490078)

`Prospective, real-time monitoring of pegylated Escherichia coli and Erwinia asparaginase therapy in childhood acute lymphoblastic leukaemia and non-Hodgkin lymphoma in Belgium.` Br J Haematol.  2020 (PMID: 32057100)

`TARP is an immunotherapeutic target in acute myeloid leukemia expressed in the leukemic stem cell compartment`. Haematologica, 2019. (PMID: 31371409)

`Circulating microRNA biomarkers for metastatic disease in neuroblastoma patients`. JCI Insight, 2018. (PMID: 30518699)

`Pinpointing a potential role for CLEC12B in cancer predisposition through familial exome sequencing`. Pediatric Blood Cancer, 2019. (PMID: 30350915)

`A novel l-asparaginase with low l-glutaminase coactivity is highly efficacious against both T- and B-cell acute lymphoblastic leukemias in vivo`. Cancer Research, 2018. (PMID: 29343523)

`Unique long non-coding RNA expression signature in ETV6/RUNX1-driven B-cell precursor acute lymphoblastic leukemia`. Oncotarget, 2016. (PMID : 27650541)

`LIN28B overexpression defines a novel fetal-like subgroup of juvenile myelomonocytic leukemia`. Blood, 2016. (PMID: 26712910)

`CD200/BTLA deletions in pediatric precursor B-cell acute lymphoblastic leukemia treated according to the EORTC-CLG 58951 protocol`. Haematologica, 2015. (PMID: 26137961)


 
Contact & links
Address: Campus UZ Gent, Ingang 10, Route 1034, 9000 Gent (secretariaat Pediatrische Hematologie-Oncologie)
Tim Lammens is interested to receive invitations for presentations or talks