prof. Sofie Verhaeghe (PhD)
CRIG group leader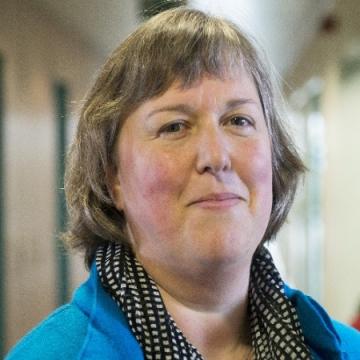 Professor (University Centre for Nursing and Midwifery, Faculty of Medicine and Health Sciences, Department of Public Health and Primary Care, UGent.)
Research supervisor (Department of Nursing, VIVES University College, Belgium)
 
Research focus
Prof Verhaeghe's research is focused on family care and interpersonal relationships in care in areas such as oncological, geriatric, intensive care, psychiatric and mental healthcare nursing. Her research focuses primarily on the perception and meaning of illness and care, transgressive behavior and participation in care.
Methodology development for implementation, education and training in nursing is also among her research topics.
She has extensive expertise in qualitative research methods.
 
Research team
prof. Dimitri Beeckman (PhD)
Elsie Decoene - clinical nurse specialist oncology (Ghent University Hospital)
Elke Rammant - doctoral fellow 
Nathalie Belpame - doctoral fellow
Corine Nierop-van Baalen - doctoral fellow
 
Key publications
Rammant E, Fonteyne V, Decaestecker K, Bultijnck R, Deforche B, Pieters R, Ost P,   Verhaeghe S, Van Hecke A. Understanding physical activity behavior in patients with bladder cancer before and after radical cystectomy: a qualitative interview study. Clinical Rehabilitation, 2019. ahead of print. (PMID: 30514109)

Nierop-van Baalen C, Grypdonck M, Van Hecke A, Verhaeghe S. Health professionals' dealing with hope in palliative patients with cancer, an explorative qualitative research. European journal of cancer care, 2018. (PMID: 30019789)

Van Lancker A, Van Hecke A, Verhaeghe S, Mattheeuws M, Beeckman D. A Comparison of Symptoms in Older Hospitalised Palliative Cancer and Non-Cancer Patients: A Secondary Analysis of Two Cross-sectional Studies. BMC Geriatrics, 2018. (PMID: 29402216)

Belpame N., Kars M.C., Beeckman D., Decoene E., Quaghebeur M., Van Hecke A., Verhaeghe S. The 3-Phase Process in the Cancer Experience of Adolescents and Young Adults. Cancer Nursing, 2018. (PMID: 28481777)

Van Lancker A., Beeckman, D., Van Den Noortgate N., Verhaeghe S., Van Hecke A. Frequency and intensity of symptoms and treatment interventions in hospitalized older palliative cancer patients : a multicentre cross-sectional study. Journal of Advanced Nursing, 2017. (PMID: 27943444)

Van Lancker A., Beeckman D., Verhaeghe S., Van Den Noortgate N., Van Hecke, A. Symptom clustering in hospitalised older palliative cancer patients: a cross-sectional study. International Journal of Nursing Studies, 2016. (PMID: 27294861)

Nierop-van Baalen, C., Grypdonck, M., Van Hecke, A., Verhaeghe, S. Hope dies last... A qualitative study into the meaning of hope for people with cancer in the palliative phase. European Journal of Cancer Care, 2016. (PMID: 27098887)

Van Lancker A., Beeckman D., Verhaeghe S., Van Den Noortgate N., Grypdonck M., Van Hecke A. An Instrument to Collect Data on Frequency and Intensity of Symptoms in Older Palliative Cancer Patients: a Development and Validation Study. European Journal of Oncology Nursing, 2016. (PMID: 26952677)

Van Lancker A., Beeckman D., Verhaeghe S., Van Den Noortgate N., Van Hecke A. Symptom Clustering in Hospitalised Older Palliative Cancer Patients: A Cross-Sectional Study. International Journal of Nursing Studies, 2016. (PMID: 27294861)

van Eechoud I., Grypdonck M., Leman J., Van den Noortgate N., Deveugele M. & Verhaeghe S. Balancing truth-telling: relatives acting as translators for older adult cancer patients of Turkish or northwest African origin in Belgium. European Journal of Cancer Care, 2016. (PMID: 27132790)



 
Contact & links
Lab address: Campus UZ Gent, entrance 42, 4K3, Corneel Heymanslaan 10, 9000 Gent