prof. Liv Veldeman (MD, PhD)
CRIG group leader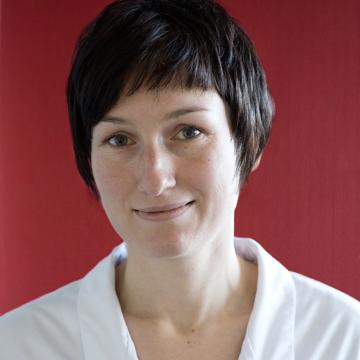 Clinical Head at the Dept. of Radiation Oncology (UZ Gent)
Clinical Postdoctoral Mandate of Foundation against Cancer (Stichting tegen Kanker)
Assistant Professor (UGent, Dept. of Human Structure and Repair)
President of BeSTRO (Belgian Society for Radiotherapy and Oncology)
Board Member of the Belgian Radiation Oncology Awareness and Vissibility Organization (BRAVO)
Coördinator of the breast cancer tumour workgroup  (UZ Gent)
 
Research focus
The goal of the breast research team at the Dept. of Radiotherapy is improving the cost-benefit ratio of radiotherapy in breast cancer patients. Since 2008 our most important achievement was the implementation of prone whole-breast irradiation at UZ Gent. Prone, compared to supine, breast radiotherapy results in less acute toxicity, less risk of radiation-induced cardiac toxicity and of lung cancer induction. Drawbacks of prone position are the complicated setup procedure, patient discomfort and reduced precision. When lymph node irradiation is required, prone position is especially challenging. We have designed an innovative prone positioning device with the arm at the treated side alongside the body (crawl position) that provides more comfort and precision than the standard prone device. We are further testing the prone crawl device in the setting of whole-breast with lymph node irradiation. We expect the same benefits regarding acute and late toxicity as in the breast-only group. 

Previous research of our group has shown that a technique of deep inspiration breath hold can be used to reduce radiation dose to the heart in prone breast radiotherapy. When using this technique, patients are asked to take a deep breath and hold their breath for a short time during radiation treatment. By inhaling, the heart shifts to an anatomically more favorable position, away from the breast, thus reducing heart dose. We currently use between 3 and 6 breath holds of 12 to 18 seconds for breast-only irradiation. When the lymph nodes are included in the target volumes, the treatment is more complex and requires between 10 and 14 breath holds of 15-30 seconds. This represents a substantial physical and mental effort for all but the most able patients. Therefore, our team is also focusing on finding a technique to assist patients to maintain a long breath hold of around 2.5 minutes during radiotherapy  by using oxygen in combination with hyperventilation. 

Another research interest of the team is accelerated radiotherapy: fewer sessions of radiation in a shorter time span with a higher dose per fraction. Accelerated radiotherapy is  attractive both for the patient (less treatment sessions) and for the hospital (more treatment capacity and shorter waiting lists), but also has some radiobiological advantages (less toxicity and improved tumor control). We are testing an accelerated schedule in 5 fractions in all settings of breast radiotherapy (breast conserving surgery or mastectomy, with or without lymph node irradiation).
 
Research team
prof. Liv Veldeman (MD, PhD) - principal investigator
prof. Chris Monten (MD, PhD) - principal investigator
dr. Sarah Deschuymer (MD, PhD) - postdoctoral fellow
dr. Michael Stouthandel (PhD)  - postdoctoral fellow
Max Schoepen - doctoral fellow
dr. Vincent Vakaet (MD)  - doctoral fellow
dr. Vincent Huybrechts (MD) - doctoral fellow
Annick van Greveling - study nurse
Bruno Speleers - dosimetrist
prof. Werner De Gersem (PhD) - physicist
dr. Luiza Olteanu (PhD) - physicist 
dr. Leen Paelinck (PhD) - physicist
Tom Vercauteren - physicist
 
Key publications
Prolonging deep inspiration breath-hold time to 3 min during radiotherapy, a simple solution. Clin Transl Radiat Oncol. 2021 Feb 23;28:10-16

Two-year toxicity of simultaneous integrated boost in hypofractionated prone breast cancer irradiation: Comparison with sequential boost in a randomized trial. Radiother Oncol. 2021 May;158:62-66

5-Year Outcomes of a Randomized Trial Comparing Prone and Supine Whole Breast Irradiation in Large-Breasted Women. Int J Radiat Oncol Biol Phys. 2021 Jul 1;110(3):766-771. 

Acute toxicity and health-related quality of life after accelerated whole breast irradiation in 5 fractions with simultaneous integrated boost. Breast. 2020 Dec 24;55:105-111. doi: 10.1016/j.breast.2020.12.009. 

Crawl positioning improves set-up precision and patient comfort in prone whole breast irradiation. Sci Rep. 2020;10(1):16376.

Health-related quality of life after accelerated breast irradiation in five fractions: A comparison with fifteen fractions. Radiother Oncol. 2020;151:47-55.

Two-year toxicity of hypofractionated breast cancer radiotherapy in five fractions. Acta Oncol. 2020;14:1-4. 

Whole breast and regional nodal irradiation in prone versus supine position in left sided breast cancer. Radiation Oncology. 2017;12:89.

Does an integrated boost increase acute toxicity in prone hypofractionated breast irradiation? A randomized controlled trial. Radiother Oncol. 2017;122:30-6

2-year cosmetic outcome of a randomized trial comparing prone and supine whole-breast irradiation in large-breasted women. Int J Radiat Oncol Biol Phys. 2016 Jul 15;95(4):1210-7.

Heart dose reduction by prone deep inspiration breath hold in left-sided breast irradiation. Radiother Oncol. 2015 Jan;114(1):79-84.

Hypofractionated whole breast irradiation for patients with large breasts: a randomized trial comparing prone and supine position. Radiother Oncol 2013, 108(2):203-8.

Alternated prone and supine whole-breast irradiation using IMRT: setup precision, respiratory movement and treatment time. Int J Radiat Oncol Biol Phys 2012;82(5):2055-64.


 
Contact & links
Ghent University Hospital, Dept. of Radiation Oncology, 0 RTP – entrance 98, Corneel Heymanslaan 10, B-9000 Gent
'Stichting tegen Kanker' webinar 24/11/2020: 'Professor Liv Veldeman: Een nieuwe aanpak van radiotherapie bij borstkanker.' - watch the recording (in Dutch)
'Kom op tegen Kanker' educational video on an improved position to irradiate breast cancer patients  - watch the video (in Dutch)