prof. Fritz Offner (MD, PhD)
CRIG group leader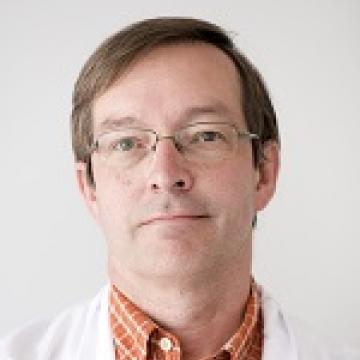 Principal investigator / group leader, clinician
Head of Department Clinical Hematology (UZ Gent)
Full Professor of hematological oncology (UGent)
Coordinating fellowship accreditor (Internal Medicine, UGent)

 
Research focus
The focus of my research is on clinical drug development in lymphoid malignancy. This comprises phase 1-3 studies of new compounds and trials of comparative of available treatment modalities, linked to translational research in the following domains:

1. NHL, DLBCL, follicular NHL (FL), mantle cell lymphoma (MCL), marginal zone lymphoma, PTCL-NOS, AITLD.

2. B-CLL with participation in trials of alternative antiCD20, antiCD37, Btk and BCL2 inhibitors. 
Participation in 
 immunuchemotherapy antiCD20 (Rituximab, Ofatumumab, Obinutuzomab) antiCD19, antiCD40, immunotoxins alphaCD22, alphaCD19, alphaCD30, bispecific Ab alphaCD19, bispecific T- enhancers alphaCD20 and CART antiCD19. 
 combination chemo-small molecules Bortezomib in FL, DLBCL, MCL, Btk inhibitor in DLBCL, FL, indolent B-NHL. Imids in DLBCL, PI3K inhibitors and HDAC inhibitors in FL 
 translational research NGS in FL, NGS on circulating tumor DNA in DLBCL and HL
 real world outcome studies in DLBCL
3. Multiple myeloma
Strategic trials in first line    
 - oral PI
 - Imids vs VPT
 - Advanced registration (Carfilzomib, Pomalidomide)
 - Ab studies (anti-ICAM1, antiCD38)
 - Bispecific Ab and CART antiBCMA, antiGPR5D, FcRH5
In vitro work on    
- glucocorticoid sensitivity
Collaborative bioinformative projects on cell of origin transcript and outcome in patients with multiple myeloma.
 
Biography
Medical Doctor, RUG, Belgium, 1985
Master degree in Medical and Pharmaceutical Technology, VUB, Belgium, 1989
Ph.D. thesis in Biomedical Sciences, University Ghent, 1993
Fellowship in Hematology, University Hospital Ghent, 1988-1990
Belgian board certification in Internal Medicine (direction Hematology), October 1990
Fellowship in bone marrow transplantation, University of Washington, Seattle, 1/91-7/92
Fellowship in Medical Oncology, Daniel den Hoed Kliniek, Rotterdam, 7/92-1/93
2007-2010 President of Belgian Hematological Society
2002 Hoofddocent hematologie
2012 Head of Dept. Hematology
2017 Hoogleraar
Member of the lymphoproliferatif party BHS
Member of the scientific council LYSA
Member of the administrative council LYSA
 
Research team
prof. Fritz Offner - principal investigator
dr. Philip Vlummens
dr. Ciel De Vriendt
dr. Philippe Decruyenaere (MD) - doctoral fellow
dr. Willem Daneels (MD) - doctoral fellow
Karlien Van Wesemael - laboratory
Astrid Van Bastelaere - study coordinator
Sofie Lust - study coordinator
Jonas Segaert - study coordinator
Charlotte Dekeyzer - study coordinator
Saskia Baert - study coordinator
Nathalie Luickx - study coordinator
Katrien De Grove – study coordinator
 
Key publications
Rituximab maintenance for 2 years in patients with high tumour burden follicular lymphoma responding to rituximab plus chemotherapy (PRIMA): a phase 3, randomised controlled trial. Lancet, 2011 (PMID: 21176949)

Identification of an Ire1alpha endonuclease specific inhibitor with cytotoxic activity against human multiple myeloma. Blood, 2011 (PMID: 21081713)

ER stress in diffuse large B-cell lymphoma: GRP94 is a possible biomarker in germinal center versus activated B-cell type. Leukemia Research, 2013 (PMID: 22938940)

Frontline rituximab, cyclophosphamide, doxorubicin, and prednisone with bortezomib (VR-CAP) or vincristine (R-CHOP) for non-GCB LBCL. Blood, 2015 (PMID: 26232170)

Ibrutinib as initial therapy for patients with chronic lymphocytic leukemia. New England Journal of Medicine, 2015 (PMID: 26639149)

Chlorambucil plus ofatumumab versus chlorambucil alone in previously untreated patients with chronic lymphocytic leukaemia (COMPLEMENT 1): a randomised, multicentre, open-label phase 3 trial. Lancet, 2015 (PMID: 25882396)

Updated outcomes and impact of age with lenalidomide and low-dose dexamethasone or melphalan, prednisone, and thalidomide in the randomized phase III FIRST trial. Journal of Clinical Oncology, 2016 (PMID: 27325857)

A gene-expression profiling score for prediction of outcome in patients with follicular lymphoma: a retrospective training and validation analysis in three international cohorts. Lancet Oncology, 2018 (PMID: 29475724

AUGMENT: A Phase III Study of Lenalidomide Plus Rituximab Versus Placebo Plus Rituximab in Relapsed or Refractory Indolent Lymphoma.

 

J Clin Oncol. 2019 May 10;37(14):1188-1199. doi: 10.1200/JCO.19.00010. Epub 2019 Mar 21.

Long-term efficacy and safety of first-line ibrutinib treatment for patients with CLL/SLL: 5 years of follow-up from the phase 3 RESONATE-2 study.

 

Leukemia. 2020 Mar;34(3):787-798. doi: 10.1038/s41375-019-0602-x. Epub 2019 Oct18.

A five-year follow-up of untreated patients with chronic lymphocytic leukaemia treated with ofatumumab and chlorambucil: final analysis of the Complement 1 phase 3 trial. 

Br J Haematol. 2020 Sep;190(5):736-740. doi: 10.1111/bjh.16625. Epub 2020 Mar 31.

Shallow-depth sequencing of cell-free DNA for Hodgkin and diffuse large B-cell lymphoma (differential) diagnosis: a standardized approach with underappreciated potential. Haematologica. 2020 Dec 10;Online ahead of print. doi: 10.3324/haematol.2020.268813.


 
Contact & links
Department Clinical Hematology (UZ Gent)
prof. Offner is interested to receive invitations for talks or presentations