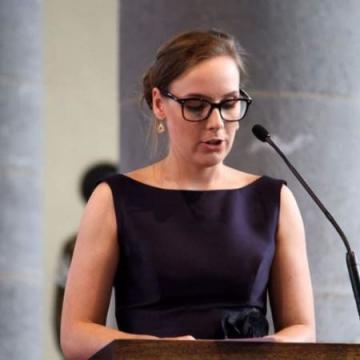 Research focus
As a doctoral fellow, I investigate how the care for rectal cancer survivors can be optimized: It is about the quality of life of patients with low anterior resection syndrome and their informal caregiver.
 
Biography
Graduated as a Master in Nursing and Midwifery in 2013. 
Working as a clinical nurse specialist digestive oncology and PhD student
I am a board member of the Association for Radiotherapy and Oncology Nurses and the and I am a member of the Oncology Recognition Committee.
 
Key publications
De strijd van rectumkanker overlevers: het laag anterior resectie syndroom (LARS) (2019) Eva Pape (UGent), Yves Van Nieuwenhove (UGent), Elsie Decoene (UGent), Mieke Debrauwere (UGent), Sofie Verhaeghe (UGent), Piet Pattyn (UGent), Tom Feryn, Paul Pattyn, Ellen Van Eetvelde, Tijl Vierendeels, Ann Van Hecke (UGent)

The struggle of the low anterior resection syndrome after treatment for rectal cancer: experiences and needs of patients (2019) Eva Pape (UGent), Yves Van Nieuwenhove (UGent), Elsie Decoene (UGent), Mieke Debrauwere (UGent), Sofie Verhaeghe (UGent), Piet Pattyn (UGent), Tom Feryn, Paul Pattyn, Ellen Van Eetvelde, Tijl Vierendeels, Ann Van Hecke (UGent)

Rectal cancer survivorship : the struggle of the low anterior resection syndrome (LARS) Eva Pape (UGent) , Piet Pattyn (UGent) , Ann Van Hecke (UGent) , N Somers, Dirk Van de Putte (UGent) , Wim Ceelen (UGent) , E van Daele, Wouter Willaert (UGent) and Yves Van Nieuwenhove (UGent) (2018) ANNALS OF ONCOLOGY. 29(suppl. 8).

Long-term survival after multimodality therapy including surgery for metastatic esophageal cancer (2018) Elke Van Daele (UGent), VINCENZO SCUDERI (UGent), Eva Pape (UGent), Dirk Van de Putte (UGent), Oswald Varin (UGent), Yves Van Nieuwenhove (UGent), Wim Ceelen (UGent), Roberto Troisi (UGent), Piet Pattyn (UGent)


 
Contact & links
Lab address: Campus UZ Gent, entrance 36, blok B -1, Corneel Heymanslaan 10, 9000 Gent