dr. Lien Van Hoecke (PhD)
CRIG member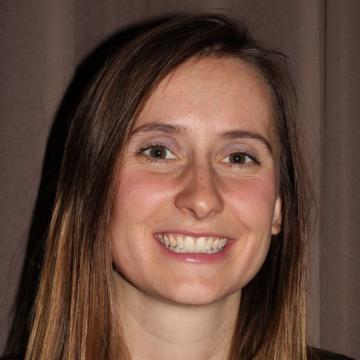 Post-doctoral researcher -  Barriers in inflammation lab, VIB-UGent Center for Inflammation Research
Principal investigators: prof. Roosmarijn Vandenbroucke (PhD)
 
Research focus
The presence of brain barriers limits the penetration of antineoplastic drugs into the brain, resulting in poor response to treatments. Many techniques have been developed to overcome these barriers, including direct injections of substances by intranasal or intrathecal routes, chemical modification of drug, physical disruption of brain barriers and so on. However, none of these methods have been approved for treatment of brain tumors yet. Here, we will enter the brain via a different angle, we use a VHH to target FOLR1 which is highly expressed at the brain barrier, more precisely the blood-CSF barrier.  As proliferating tissues harbor increased folate requirement and thereby show high FOLR1 expression, we hypothesize that once our anti-FOLR1 VHH is in the brain, our VHH can target FOLR1 positive brain cancer cells.  
We are currently investigating if our FOLR1-targeting VHH has clinical potential to guide therapeutics and imaging agents to FOLR1 positive brain tumors. This project will yield novel insights into the use of a FOLR1-targeting VHH as tumor-targeting therapeutics and imaging agent.
 
Biography
In my doctoral research we developed a mRNA-based immunotherapy against cancer. This research resulted in a patent
(WO2019/048639 A1 – Publication date 14/03/2019).
The developed onco-immunotherapy induces an adaptive immune response to cancer cells leading to treatment of primary tumors and preventing the development of tumor metastasis. 
After my PhD, I shifted to the field of neurology to, amongst other things, investigate different tools to deliver therapeutics to the brain by crossing brain barriers.
Now, I want to combine my expertise gained during my PhD with my postdoctoral research and investigate the potential of our newly identified VHH as tool for brain tumor imaging and targeting of therapeutics to brain tumors.
 
Key publications
mRNA in cancer immunotherapy: beyond a source of antigen, Mol. Cancer, 2021, PMID: 33658037

Recombinant viruses delivering the necroptosis mediator MLKL induce a potent antitumor immunity in mice., Oncoimmunology, 2020, PMID: 32923163

Delivery of Mixed-Lineage Kinase Domain-Like Protein by Vapor Nanobubble Photoporation Induces Necroptotic-Like Cell Death in Tumor Cells., Int J Mol Sci, 2019, PMID: 31480289

Treatment with mRNA coding for the necroptosis mediator MLKL induces antitumor immunity directed against neo-epitopes., Nat Commun, 2018, PMID: 30143632


 
Contact & links
Lab address: Technologiepark-Zwijnaarde 71, 9032 Gent
Lien Van Hoecke is interested to receive invitations for presentations or talks