dr. Kathleen Schoofs (PhD)
CRIG member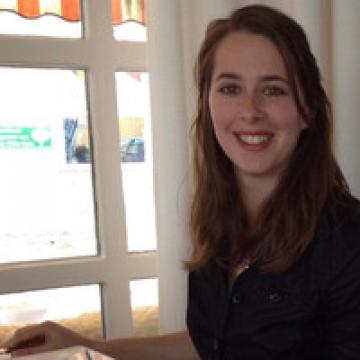 Research focus
Esophageal cancer is a highly fatal malignancy and is the eight most common cause of cancer related death worldwide. The incidence of esophageal adenocarcinoma (EAC), a histologic subtype of esophageal cancer, is rapidly rising in Western countries. While patient survival has slightly approved over the last decade due to optimization of multimodality treatment, five-year survival remains unacceptably low (20%). Until now, no clinically validated biomarker panel can predict the response to multimodality treatment or monitor the efficacy of treatment. The potential of RNA, in particular microRNAs, as circulating biomarkers has shown some promise, but lack specificity and sensitivity for clinical applicability. 
The primary aim of the project is to identify a panel of robust plasma biomarkers to predict and monitor therapy response. The secondary aim is to identify biomarkers that are specific for EAC and thus can be used for early detection in patients at risk for developing EAC.
Both aims focus on three benefits of the patients.
First, blood-derived biomarkers are much more convenient for the patient compared to classic endoscopy and tissue biopsy.
Second, prediction and monitoring of therapy response allows clinicians to develop a tailored therapy plan that aims at improved quality of life by avoiding unnecessary toxic treatments.
Third, early detection of EAC is expected to substantially contribute to better overall survival.
 
Biography
Kathleen Schoofs obtained her Master's degree in Forensic Science at the University of Amsterdam in the Netherlands. As part of this degree she stayed nine months at the University of Central Lancashire, United Kingdom, and wrote her MSc thesis titled 'Sequencing the mitochondrial genome of two forensically important blowfly species: Lucilia caesar and Lucilia illustris'.
After obtaining her Master's degree Kathleen Schoofs continued to work in the field of nuclear forensics for several years.
In 2017 she moved to Belgium and did an internship at the Belgian Nuclear Research Centre (SCK-CEN) with the radiobiology research group, where her research focused on identifying novel RNA biomarkers in blood of persons exposed to radiation. Her curiosity and interest for biomarker research as well as cancer research grew and resulted in her current PhD position in the research group of prof. Katleen De Preter. 
 
Contact & links
Lab address VIB:  
VIB Center for Medical Biotechnology
UGent Department of Biomolecular Medicine
Technologiepark-Zwijnaarde 75 - 9052 Ghent 
Lab address UZ: 
OncoRNALab, entrance 36, campus UZ Gent,
Corneel Heymanslaan 10, 9000 Ghent
Kathleen Schoofs is interested to receive invitations for presentations or talks