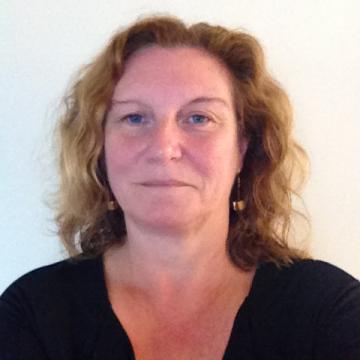 Lead Business Developer of the CRIG Business Unit.
Business developer Life Sciences (Ghent University), PhD, MBI.

 
I strongly believe that bringing together multidisciplinary expertise is key for the realization of top cancer research, but working synergistic with multidisciplinary expertise at the level of business development and building a strong industrial network helps to bring faster innovative results to the market and to the patients worldwide. 
 
Function
As Business Developer, Daisy Flamez is responsible for coordination and facilitation towards commercialization of new research findings in the field of diagnostics, biomarker platform technology and gene therapy. She is the focal point for industrial collaborations and builds a relevant industrial network of life science companies (diagnostic, bioinformatic, biotech and pharma) for CRIG and Biomarked.
She has a daily focus on: research & innovation management - technology transfer - project portfolio management – prospecting and negotiating licensing deals – building and managing a strategic IP portfolio - technology & business development and spin-off incubation and creation. 
Biomarked is a consortium of >20 research groups active in biomarker research, diagnostics, bioinformatics, transcriptomics/(epi)genomics, proteomics/metabolomics, CRISPR platform technology, extra cellular vesicles for diagnostics and therapy application, HIV diagnostics, diabetes and novel therapeutics in for age-related eye diseases such as cataract, diabetic retinopathy and macular degeneration.
 
Biography
Daisy Flamez holds a Ph.D in Sciences - specialization tumor immunotherapy – obtained in Walter Fiers lab, one of the pioneers of the VIB. She obtained >15  years of postdoctoral expertise in diabetes applied research in an international setting and in a collaborative mode with industrial partners.  Since 2010 she is Business Developer at Biomarked, the Business and Valorisation cluster with focus on pre-clinical biomarker research, omics platform expertise and RNA-abled therapeutics at Ghent University. She realized > 20 licenses and facilitated the creation of the following spinoffs: Statter, Pxlence, OhmX.Bio, Flamingo therapeutics and TRINCE. In 2018 she obtained from Vlerick her Master in Business and Innovation, Health and Life Sciences.
 
Specialization
Biomarker pre-clinical research towards diagnostics and gene therapy/RNA abled targeted therapies, oncology, diabetes, HIV and ageing diseases such as Cataract and dryAMD, business development and contract management, network/partnering with industrial partners, patent portfolio management, facilitation of obtaining (inter)national innovation funds, licensing and venturing.
 
Contact & links
Ghent University, Coupure Links 653 Blok A 032, 9000 Gent, Belgium
Office ++32 92649912
Mobile ++32 477447110
Daisy.Flamez@UGent.be