dr. Daan De Maeseneer (MD)
CRIG member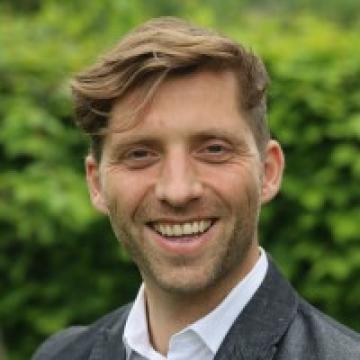 Honorary /  Doctoral fellow – Fundamental and applied Medical Sciences - Faculty of Medicine and Health Sciences, Ghent University
Medical Oncologist – Department of Medical Oncology, Ghent University Hospital
Principal investigator: prof. Sylvie Rottey (MD, PhD)
 
Research focus
Translational research on biomarkers in bladder cancer, especially predicting response to neo-adjuvant chemotherapy. Combining pathology, genomics, and modern imaging techniques. 
 
Key publications
The Changing Landscape of Systemic Therapy in the Treatment of Synchronous Metastatic Hormone-sensitive Prostate Cancer. Clin Genitourin Cancer. 2022 (PMID: 36529628)

Prospective non-interventional BELOVA/BGOG-ov16 study on safety of frontline bevacizumab in elderly patients with FIGO stage IV ovarian cancer: a study of the Belgian and Luxembourg Gynaecological Oncology Group. .Int J Gynecol Cancer. Int J Gynecol Cancer. 2022. (PMID: 35063943)

Adjuvant Radiotherapy After Radical Cystectomy for Patients with High-risk Muscle-invasive Bladder Cancer: Results of a Multicentric Phase II Trial. Eur Urol Focus. 2022. (PMID: 34893458)

Evaluating the impact of 18F-FDG-PET-CT on risk stratification and treatment adaptation for patients with muscle-invasive bladder cancer (EFFORT-MIBC): a phase II prospective trial. BMC Cancer. 2021. (PMID: 34663254)

Checkpoint inhibition in combination with an immunoboost of external beam radiotherapy in solid tumors (CHEERS): study protocol for a phase 2, open-label, randomized controlled trial. BMC Cancer. 2021. (PMID: 33962592)

Randomized Phase 1 Trial of Pembrolizumab with Sequential Versus Concomitant Stereotactic Body Radiotherapy in Metastatic Urothelial Carcinoma. Eur Urol. 2019. (PMID: 30665814)

Cell-free DNA profiling of metastatic prostate cancer reveals microsatellite instability, structural rearrangements and clonal hematopoiesis. Genome Med. 2018. (PMID: 30458854)

Circulating tumor cells and survival in abiraterone- and enzalutamide-treated patients with castration-resistant prostate cancer. Prostate. 2018 (PMID: 29431193)

Pembrolizumab for the treatment of bladder cancer. Expert Rev Anticancer Ther. 2018 (PMID: 29284318)


 
Contact & links
Address: Department Medical Oncology, UZ Gent, Corneel Heymanslaan 10, entrance 50, route 535, 9000 Gent
Daan De Maeseneer is
-    Coordinator Centre of Oncology –
      Palliative Care AZ Sint-Lucas Brugge
-    Consultant Medical Oncology – AZ ZENO Knokke
-    Consultant Medical Oncology – AZ Sint-Jan Brugge
Daan De Maeseneer is interested to receive invitations for presentations or talks.