Chaimae El Hadri
CRIG member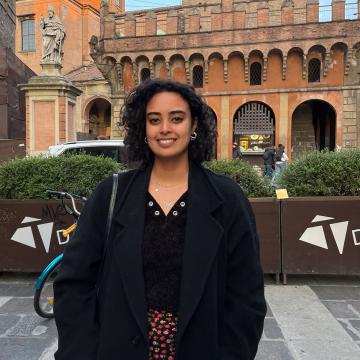 Doctoral fellow - Laboratory for Medicinal Chemistry (Faculty of Pharmaceutical Sciences, UGent)
Principal investigator: prof. Serge Van Calenbergh (PhD)
Doctoral fellow - Unit for Translational Research in Oncology (UTRiO), Department of Diagnostic Sciences (Faculty of Medicine and Health Sciences, UGent)
Principal investigator: prof. Steven Goossens (PhD)
 
Research focus
Acute leukemia is an aggressive cancer with multiple subtypes. It affects healthy patients (de novo) as well as patients that already have an underlying hematological disorder, as a side-effect of chemo/radiation therapy. 
My research is focused on targeting key transcription factors (TF) involved in important acute leukemia pathways. Historically, TFs were considered 'undruggable' according to conventional approaches. Nowadays, novel therapeutic approaches are changing the rules of 'druggability', especially Proteolysis Targeting Chimeras (PROTACs). They are heterobifunctional molecules that possess a target protein (POI) recruiting group linked to an E3 ligase interacting moiety. PROTACs catalyze event-driven protein degradation, through recruitment of the E3 ligase which promotes polyubiquitination of the POI and its ensuing degradation in the proteasome by the ubiquitin-proteasome-system.
We are convinced that PROTAC technology is a successful and safe therapeutic strategy for targeting TFs in acute leukemia.
In particular I am involved in the design, synthesis and in the preliminary biological evaluation of small molecules and PROTACs against important TFs in acute leukemia.
 
Contact & links
Lab address: 
1) Faculty of Pharmaceutical Sciences, Laboratory for Medicinal Chemistry, Ottergemsesteenweg 460, B-9000 Gent
2) UZ Gent, MRB2 (entrance 38), 1st Floor, Room 110.064, Corneel Heymanslaan 10, B-9000 Ghent, Belgium
Chaimae El Hadri is interested to receive invitations for presentations or talks