Adriana Krupa
CRIG member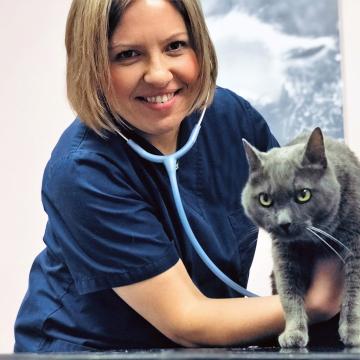 Predoctoral researcher – Small Animal Department, Faculty of Veterinary Medicine (UGent)
Veterinary oncologist – Small Animal Teaching Hospital, Faculty of Veterinary Medicine (UGent)
Practice assistant
Principal investigator: prof. Hilde De Rooster (PhD)
 
Research focus
As for research, my interest lies in the use of pegylated-L-asparaginase (pegaspargase) as a part of a new treatment protocol for cats and dogs with high-grade lymphoma or leukaemia. Pegaspargase is an effective agent for feline lymphoma. Its incorporation into a COP chemotherapy protocol may confer a survival benefit, especially in cats with complete responses to pegaspargase. Treatment appears generally well tolerated, compared to humans. Further studies are required to assess the benefits of pegaspargase as monotherapy or as part of different multi-agent chemotherapy regimens. Pegaspargase can be a valuable alternative for pets not allowed to receive chemotherapy. Dogs and cats can also be valuable animal models for further research and development of new asparaginases, the drug, which is a cornerstone of the successful treatment of ALL and certain non-Hodgkin/LBL in humans. Owing to therapeutic limitations and the toxicity spectrum in humans, there is an ongoing need for further development of less toxic and safer versions of asparaginase for human patients, where dogs can greatly contribute to the research due to the spontaneous occurrence of their disease as well as the shared environment and societal status that allows them to be treated as "patients," while at the same time being able to ethically explore translational innovations. When possible, I would also like to focus on receptor tyrosine kinases inhibition and metronomic chemotherapy in tumour progression and response to therapy, in canine mast cell tumours and head and neck carcinomas. In the future, I would like to deepen my understanding of and possible implications of immuno-oncology, checkpoint blockers (PD-1/PD-L1, CTLA-4) and their combination with chemotherapeutic or targeted approaches in dogs and cats diagnosed with cancer.
 
Biography
Adriana "Ada" Krupa is originally from Brzeg, Poland and earned her veterinary degree from Wroclaw University of Environmental and Life Sciences in 2010. Her keen interest in oncology has led her to undertake specialized internships and trainings with notable oncology specialists and experts in the Netherlands, Slovenia, the United Kingdom and the United States. In 2018, she completed a three-year European residency program in medical oncology (ECVIM-CA Oncology) at the University of Utrecht in the Netherlands and continued her work as an oncologist in the Netherlands.
In 2021 Ada joined the Internal Medicine Veterinary Team of the University Faculty of Veterinary Medicine in Gent, as a teaching assistant and oncologist.  
Presently, Ada also aims to make cancer treatment for pets more accessible by offering oncology services to clinics in The Netherlands through her consultancy company. Conducts seminars and presentations in various subjects pertaining to medical oncology
Ada is the author of various oncology articles published in veterinary medical journals and magazines. She is an active member of research team/s in collaborative international/cross country small animal studies determining new avenues of treatments in the field of oncology. She is also a member of Veterinary Oncology Network (VON) at Gent University and the European Society of Veterinary Oncology (ESVONC).
She is dedicated to her patients and passionate about raising cancer awareness. Compassionate and quality care underlines her principles of work, considering that cancer can be an overwhelming diagnosis for families of pet owners. She believes in providing options, encouragement, and most especially hope.
 
Key publications
The use of tigilanol tiglate (Stelfonta®) for the treatment of canine mast cell tumors'. Vlaams Diergeneeskundig Tijdschrift, 2023. (doi: https://doi.org/10.21825/vdt.86336)

'Pegylated asparaginase in feline high-grade lymphoma: clinical results of single injection and continued incorporation into a modified COP regimen'. Journal of Feline Medicine and Surgery, 2022. (PMID: 35748790)

'Evaluation of PEG-L-asparaginase in asparagine suppression and anti-drug antibody development in healthy Beagle dogs: A multi-phase preclinical study'. Veterinary Journal, 2022. (PMID: 35781075)

'Familial follicular cell thyroid carcinomas in a large number of Dutch German longhaired pointers'. Veterinary and Comparative Oncology, 2022. (PMID: 34464021)

'Recurrent horizontal transfer identifies mitochondrial positive selection in a transmissible cancer'. Nature Communications, 2020. (PMID: 32546718)

'Somatic evolution and global expansion of an ancient transmissible cancer lineage'.  Science, 2019. (PMID: 31371581)

'A novel canine B-cell leukaemia cell line. Establishment, characterisation and sensitivity to chemotherapeutics'. Veterinary and Comparative Oncology, 2016. (PMID: 27506920)


 
Contact & links
Lab address: Small Animal Department, Faculty of Veterinary Medicine, Ghent University, Salisburylaan 133, B-9820 Merelbeke
Ada Krupa is interested to receive invitations for talks or presentations