prof. Kodi Ravichandran (PhD)
CRIG group leader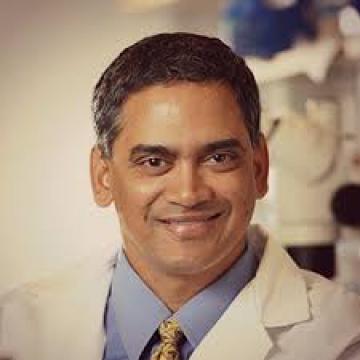 Senior Full Professor, Department of Biomedical Molecular Biology, Faculty of Sciences, Ghent University
Principal Investigator, VIB Center for Inflammation Research, Ghent
Chair, Dept. of Microbiology, Immunology, and Cancer Biology, University of Virginia, Charlottesville, VA
Professor of Microbiology, University of Virginia, Charlottesville, VA
Partner in the EOS-DECODE project "Refining cancer cell death and danger signals for the improvement of immunotherapy"
 
Research focus
The fundamental process of apoptotic cell death and cell clearance is critical for normal tissue development and homeostasis, as well as several pathologies. In the context of cancer biology, our lab is interested in how tumor cells die, how therapeutic intervention causes tumor cells and surrounding healthy neighbor cells to die, and how tumor progression influences the body's ability to clear dying cells. Dying cells, and the body's subsequent ability to recognize and clear those dying cells, greatly impacts tumor progression and anti-tumor immune responses. Additionally, chemotherapy induced gastrointestinal toxicity is one of the major limiting factors in therapy dosing and duration. By further understanding how the fundamental process of apoptotic cell clearance is impacted during cancer and cancer therapy, we hope to discover novel supportive therapy to improve patient care and enhance current therapy efficacy. 
 
Biography
Prof. Kodi Ravichandran is a leading expert on how apoptotic cells are recognized and removed from the body both during homeostasis and disease, using a variety of models, including mouse models of human disease.
He established his independent laboratory at the University of Virginia, where he currently is Harrison Distinguished Professor of Microbiology and Chair of the Department of Microbiology, Immunology, and Cancer Biology, University of Virginia.
Dr. Ravichandran is also the Director of the Center for Cell Clearance. He was awarded an Odysseus I award from the FWO in 2016 and started his laboratory at Ghent University/VIB in 2017 and has now established a full-fledged laboratory in Belgium (with 8 postdoctoral fellows, PhD student, and two technical staff).
He recently received an Advanced ERC grant.
 
Contact & links
Lab address: Cell Clearance in Health and Disease Lab, VIB Center for Inflammation Research, Technologiepark-Zwijnaarde 71, Zwijnaarde (Gent)
prof. Ravichandran is involved in EOS-DECODE "Refining cancer cell death and danger signals for the improvement of immunotherapy" (2018-2021)