prof. Frederik Berrevoet (MD, PhD)
CRIG member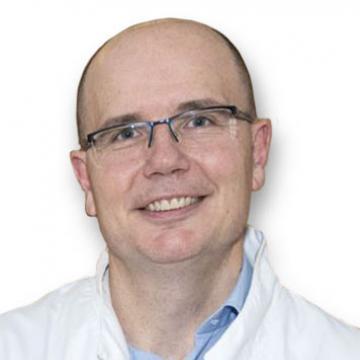 head of clinic – General and HPB Surgery and Liver Transplantation (UZ Gent)
associate professor (Faculty of Medicine and Health Sciences, UGent)
member of the E-HPBA
 
Research focus
Research on different aspects of pancreatic cancer in collaboration with different teams at Ghent University Hospital, including Digestive Oncology, Gastro-intestinal Surgery, Genetics, Molecubes, Pathology and Radiology.
 
Key publications
Outcomes and Risk Score for Distal Pancreatectomy with Celiac Axis Resection (DP-CAR): An International Multicenter Analysis. Klompmaker S, Peters NA, van Hilst J, Bassi C, Boggi U, Busch OR, Niesen W, Van Gulik TM, Javed AA, Kleeff J, Kawai M, Lesurtel M, Lombardo C, Moser AJ, Okada KI, Popescu I, Prasad R, Salvia R, Sauvanet A, Sturesson C, Weiss MJ, Zeh HJ, Zureikat AH, Yamaue H, Wolfgang CL, Hogg ME, Besselink MG; E-AHPBA DP-CAR study group. Ann Surg Oncol. 2019 ar;26(3):772-781. doi: 10.1245/s10434-018-07101-0. Epub 2019 Jan 4.

Minimally Invasive versus Open Distal Pancreatectomy for Ductal Adenocarcinoma (DIPLOMA): A Pan-European Propensity Score Matched Study. van Hilst J, de Rooij T, Klompmaker S, Rawashdeh M, Aleotti F, Al-Sarireh B, Alseidi A, Ateeb Z, Balzano G, Berrevoet F, Björnsson B, Boggi U, Busch OR, Butturini G, Casadei R, Del Chiaro M, Chikhladze S, Cipriani F, van Dam R, Damoli I, van Dieren S, Dokmak S, Edwin B, van Eijck C, Fabre JM, Falconi M, Farges O, Fernández-Cruz L, Forgione A, Frigerio I, Fuks D, Gavazzi F, Gayet B, Giardino A, Groot Koerkamp B, Hackert T, Hassenpflug M, Kabir I, Keck T, Khatkov I, Kusar M, Lombardo C, Marchegiani G, Marshall R, Menon KV, Montorsi M, Orville M, de Pastena M, Pietrabissa A, Poves I, Primrose J, Pugliese R, Ricci C, Roberts K, Røsok B, Sahakyan MA, Sánchez-Cabús S, Sandström P, Scovel L, Solaini L, Soonawalla Z, Souche FR, Sutcliffe RP, Tiberio GA, Tomazic A, Troisi R, Wellner U, White S, Wittel UA, Zerbi A, Bassi C, Besselink MG, Abu Hilal M; European Consortium on Minimally Invasive Pancreatic Surgery (E-MIPS). Ann Surg. 2019 Jan;269(1):10-17. doi: 10.1097/SLA.0000000000002561.

Cisplatin-modified de Gramont in second-line therapy for pancreatic adenocarcinoma. Ky V, Hav M, Berrevoet F, Troisi RI, Ferdinande L, Monsaert E, Vanderstraeten E, De Bosschere K, Van Damme N, Laurent S, Geboes K. Pancreas. 2013 Oct;42(7):1138-42. doi: 10.1097/MPA.0b013e31829a80b7.

Adjuvant gemcitabine versus NEOadjuvant gemcitabine/oxaliplatin plus adjuvant gemcitabine in resectable pancreatic cancer: a randomized multicenter phase III study (NEOPAC study). Heinrich S, Pestalozzi B, Lesurtel M, Berrevoet F, Laurent S, Delpero JR, Raoul JL, Bachellier P, Dufour P, Moehler M, Weber A, Lang H, Rogiers X, Clavien PA. BMC Cancer. 2011 Aug 10;11:346. doi: 10.1186/1471-2407-11-346.

Efficacy of stapler versus hand-sewn closure after distal pancreatectomy (DISPACT): a randomised, controlled multicentre trial. Diener MK, Seiler CM, Rossion I, Kleeff J, Glanemann M, Butturini G, Tomazic A, Bruns CJ, Busch OR, Farkas S, Belyaev O, Neoptolemos JP, Halloran C, Keck T, Niedergethmann M, Gellert K, Witzigmann H, Kollmar O, Langer P, Steger U, Neudecker J, Berrevoet F, Ganzera S, Heiss MM, Luntz SP, Bruckner T, Kieser M, Büchler MW. Lancet. 2011 Apr 30;377(9776):1514-22. doi: 10.1016/S0140-6736(11)60237-7.


 
Contact & links
Prof. Frederik Berrevoet is interested to receive invitations for presentations or talks