prof. Bruno Lapauw (MD, PhD)
CRIG member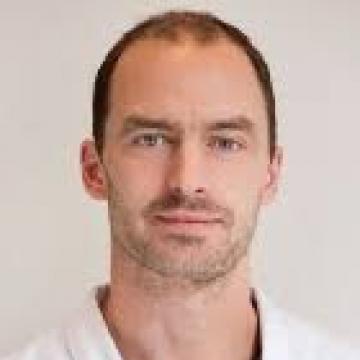 Head of clinic – Endocrinology (UZ Gent)
Endocrine tumor board coordinator (UZ Gent)
Full professor (Faculty of Medicine and Health Sciences, UGent)
 
Research focus
Endocrine tumors present a broad group of disease entities, ranging from non-malignant but clinically devastating hormonally functional tumors, malignant but indolent microscopic thyroid cancers, to rapidly progressive and often incurable aggressive carcinomas. Most of these tumors are considered rare diseases and are therefore relatively understudied. Unfortunately, this results in suboptimal treatment options for many of these patients. With our endocrine tumor research group, we want to focus on the following aspects of endocrine oncology:
- Improving follow-up and care for patients with iodine-refractory thyroid carcinoma. This subgroup of patients presents with or develops dedifferentiated thyroid cancer which is associated with a worse prognosis. Due to loss of expression of the Na/I symporter necessary to apply radioactive iodine imaging and treatment, optimal management and therapy is hampered. Using novel imaging techniques such as 18F-PSMA-11 PET/CT but also by trying to detect more reliable tumor markers (e.g. PSMA serum levels, circulating tumor cells) we want to contribute to better patient management, and maybe even improve therapeutic options. In addition, we want to investigate causative pathophysiologic mechanisms for this dedifferentiation process.
- Management of hereditary endocrine tumor syndromes. Germline mutations in different genes (e.g. menin, PPKAR1A, SDHx, RET, …) are associated with an increased risk to develop different endocrine tumors. Still, there is uncertainty with respect to optimal screening protocols and genetic counseling in these subjects. Our research focusses on further deciphering possible geno-/phenotype correlations and balancing risks and benefits of screening in these entities. In addition, future work will focus on evaluating early disease markers (e.g. tumor mRNA, circulating tumor cells, …).
 
Research team
prof. Bruno Lapauw (MD,PhD) – principal investigator, full professor
dr. Charlotte Verroken (MD,PhD) – post-doctoral fellow, clinician
Tibbert Van den Eynde – lab technician
 
Contact & links
Lab address: UZ Gent, Department of Endocrinology (route 1450), Corneel Heymanslaan 10, 9000 Gent
Bruno Lapauw can provide support in elaborate steroid profiling using LC/MSMS (Laboratory of Hormonology)
Bruno Lapauw is interested to receive invitations for presentations or talks