dr. Emiel De Jaeghere (MD)
CRIG member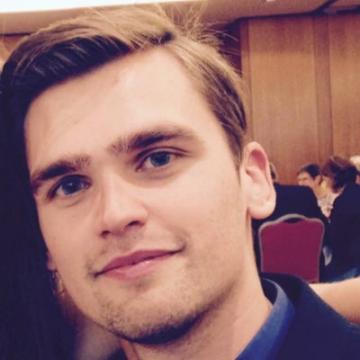 Aspirant – Research Foundation-Flanders (FWO)
Doctoral Fellow/Internal Medicine Resident – Department of Medical Oncology, Ghent University Hospital 
Doctoral Fellow – Laboratory of Experimental Cancer Research (LECR), Ghent University 
Research Staff – Gynecologic and Pelvic Oncology Network (GYPON), Ghent University Hospital
Principal investigators: Prof. Hannelore Denys (MD, PhD), Prof. Olivier De Wever (PhD) and Prof. Frédéric Amant (MD, PhD) 
 
Research focus
My reaserch focus is "Understanding and overcoming the tumor immune micro- and macroenvironment for effective therapy".
 
Biography
Master of Medicine in Specialist Medicine (Internal Medicine), Ghent University Hospital (2018-Present).
Laboratory Animal Science, Ghent University (2018-2019).
Master of Medicine in Medicine, Degree of Medical Doctor (MD), Ghent University (2014-2018), Summa Cum Laude.
Rudiments of Electrocardiography (2016-2017).
Bachelor of Science in Medicine, Ghent University (2011-2014), Summa Cum Laude.
International Internships:
Antoni van Leeuwenhoek Hospital/Netherlands Cancer Institute (Amsterdam, The Netherlands), Department of Gynecological Oncology, prof. dr. Frédéric Amant.
Daniel den Hoed/Erasmus Medical Center (Rotterdam, The Netherlands), Department of Hemato-Oncology, prof. dr. Pieter Sonneveld and dr. Annoek Broers.
Honors:
"Bank J. Van Breda & C° Prize" for best master's thesis.
Best Video Presentation, 5th edition of Oncopoint, Ghent, Belgium (March 2017).
 
Key publications
Neo-adjuvant treatment of adenocarcinoma and squamous cell carcinoma of the cervix results in significantly different pathological complete response rates. BMC Cancer, 2018. (PMID: 30419851).

Heterocellular 3D scaffolds as biomimetic to recapitulate the tumor microenvironment of peritoneal metastases in vitro and in vivo. Biomaterials, 2018. (PMID: 29306747).

Tumour tissue transport after intraperitoneal anticancer drug delivery. Int J Hyperthermia, 2017. (PMID: 28540828).

Incorporating PARP-inhibitors into clinical routine: A tailored treatment strategy to tackle ovarian cancer. Acta Clinica Belgica, 2017. (PMID: 27267353).



 
Contact & links
Lab address: Laboratory of Experimental Cancer Research (LECR), University Hospital Ghent, Radiotherapiepark (entrance 98), C. Heymanslaan 10, 9000 Ghent, Belgium
Involved in GYPON (Gynecologic and Pelvic Oncology Network). GYPON provides a comprehensive program of clinical trials, translational and basic research, education and outstanding care for women with the full range of gynecologic cancers.
Emiel De Jaeghere is interested to receive invitations for presentations or talks