Dr. Zifu Zhong (PhD)
CRIG member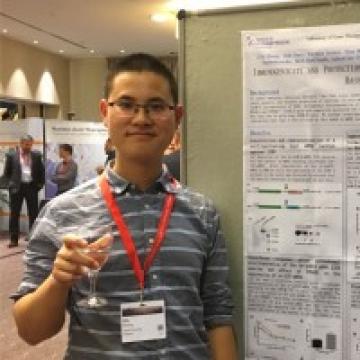 Postdoctoral researcher - Biopharmaceutical Technology Unit (Faculty of Pharmaceutical Sciences, UGent)
Principal investigator: prof. Bruno G. De Geest (PhD)
 
Research focus
My current research interests focus on developing efficient strategies (e.g. cancer vaccines, anticancer molecules) for cancer treatment in different mouse models, with research endeavors to engineer innate immune activation and temper the tumor microenvironment.
In addition, we have a strong interest in developing non-viral delivery systems for improving their anticancer efficacy and reducing potential side effects in vivo.
 
Biography
Zifu Zhong obtained his PhD in Veterinary Sciences at Ghent University in 2020. In this work he focused on the design and the in vivo delivery (using electroporation and nanoparticles) of novel vaccines based on self-replicating RNA. He is currently a postdoctoral researcher at the in the group of Prof. Dr. Bruno De Geest at Department of Pharmaceutics (Ghent University). He is currently exploring functional nanomaterials for the delivery of RNA for cancer immunotherapy.
 
Key publications
mRNA therapeutics deliver a hopeful message. Nano Today. 2018

Lymph-Node-Targeted Immune Activation by Engineered Block Copolymer Amphiphiles-TLR7/8 Agonist Conjugates. J Am Chem Soc. 2018 (PMID: 30277761)

Nanoparticle-Conjugate TLR7/8 Agonist Localized Immunotherapy Provokes Safe Antitumoral Responses. Adv Mater. 2018 (PMID: 30276880)

Immunogenicity and Protection Efficacy of a Naked Self-Replicating mRNA-Based Zika Virus Vaccine. Vaccines (Basel). 2019 (PMID:31450775)

Corticosteroids and cellulose purification improve, respectively, the in vivo translation and vaccination efficacy of sa-mRNAs. Molecular Therapy. 2021 (PMID: 33484964)

Sterilizing Immunity against SARS-CoV-2 Infection in Mice by a Single-Shot and Lipid Amphiphile Imidazoquinoline TLR7/8 Agonist-Adjuvanted Recombinant Spike Protein Vaccine. Angew Chem Int Ed Engl. 2021 (PMID: 33464672)
Contact & links
Lab for Biopharmaceutical Technology, Faculty of Pharmaceutical Sciences, third floor, Ottergemsesteenweg 460, 9000 Ghent
Zifu Zhong is interested to receive invitations for presentations or talks