dr. Suzanne Fischer (MD)
CRIG member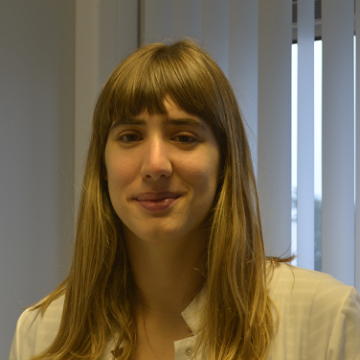 Doctoral fellow – Laboratory of Experimental Cancer Research (UGent)
Trainee General Surgery – Department of Gastro-Intestinal Surgery (UZ Gent)
Principal Investigator: prof. An Hendrix
 
Research focus
Sarcomas are rare tumors with an incidence of 3,2 cases per 100 000 persons each year. High-grade sarcomas have the propensity to metastasize in 50-80% of patients and once metastasized, they have a 5-year overall survival of only 16%, partly due to the limited treatment options. No biomarkers are available to predict the efficacy of the standard treatment options and, as all rare tumors, sarcoma patients have no access to phase I clinical trials which hampers the identification of new promising compounds. Patient-derived xenografts (PDX) prepared by direct engraftment of patient-derived tumor fragments into immunocompromised mice, faithfully recapitulate human tumor biology, elucidate new treatments and biomarkers and predict patient drug response. Extracellular vesicles (EV) are nanometer-sized membrane structures that are massively released by cancer cells and are found in liquid biopsies. Quantification and molecular characterization of EV in liquid biopsies may predict therapy response.
Our goal is to improve the overall survival of sarcoma patients and to reduce therapeutic-induced toxicity. 
 
Biography
Suzanne Fischer graduated magna cum laude as a medical doctor in 2017 at Ghent University, Belgium.
In august 2017, she started as a surgical trainee at the Ghent University hospital and worked at the thoracovascular surgery and cardiac surgery departments.
In january 2018, she started simultaniously as a surgical trainee at the gastro-intestinal surgery department of the Ghent University hospital and as a doctoral fellow at the laboratory of experimental cancer research of the Ghent University.
Dr. Fischer has an interest in surgical oncology, and particularly in sarcoma. Her research focus is extracellular vesicles as a guide for sarcoma treatment and follow-up, and the development of patient-derived xenografts for the development of novel compounds. 
Suzanne Fischer is a member of the Belgian Association of Surgical Trainees (BAST), the Royal Belgian Society of Surgery (RBSS), the Belgian Group of Endoscopic Surgery (BGES) and the Belgian Society of Extracellular Vesicles (BESEV).