dr. Sarah Raevens (MD, PhD)
CRIG member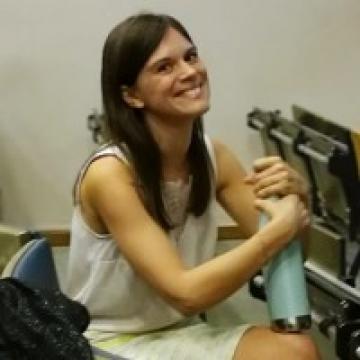 Hepatologist, Department of Gastroenterology and Hepatology, Ghent University Hospital
Postdoctoral Researcher, Hepatology Research Unit , Department of Gastroenterology and Hepatology, Internal Medicine, Faculty of Medicine and Health Sciences, Ghent University
Principal investigator: prof. Hans Van Vlierberghe (MD, PhD)
 
Research focus
The research work of Sarah Raevens focuses on improvement of identification, risk stratification and management of cirrhosis, which is the most important risk factor for the development of hepatocellular carcinoma, portal hypertension, and their complications. 
The lab work mainly focuses on angiogenesis and endothelial dysfunction as mechanisms involved in the pathophysiology of these diseases, using different animal models of chronic liver disease. 
 
Biography
Sarah Raevens is a physician at the Department of Gastroenterology and Hepatology of the Ghent University Hospital and postdoctoral researcher at the Hepatology Research Unit. Her main clinical and research interests include complications of liver cirrhosis, including liver cancer, portal hypertension and liver transplantation.