dr. Renaat Coopman (MD, PhD)
CRIG member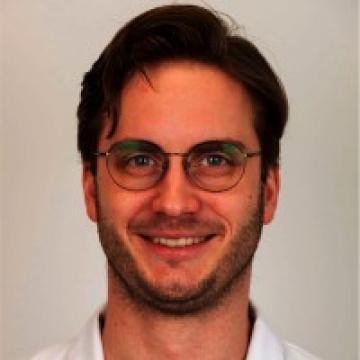 Postdoctoral researcher Ghent University
Head of division Oral & Maxillofacial Surgery, department Plastic & Reconstructive Surgery UZ Ghent
Data Science Institute UZ Ghent
Co-founder 3D Platform UZ Ghent
Principal investigator: prof. David Creytens (MD, PhD)
 
Research focus
Under the influence of near-infrared (NIR) radiation, certain covalent bonds between molecules show vibrations. NIR spectroscopy (NIRS) is a technique that measures the NIR absorbance of chemical bonds, which can be analysed using advanced statistical methods (principal component analysis (PCA) and soft independent modelling of class analogy (SIMCA). 
Due to recent technical evolutions and the successful applications of FCM and NIRS in other medical fields, this doctoral research sought to apply these innovative techniques to salivary gland pathology. 
Salivary gland tumors (SGTs) require dedicate experience to make a correct histological diagnosis. Glycobiology, a new scientific field, describes various post-translational modifications of saccharides on glycoproteins in malignant processes. With NIRS, these tumors and their glycosylation patterns were studied.
Based on NIRS, malignant SGTs could be differentiated. By enzymatic treatment of SGT tissue sections with neuraminidase, terminal sialicyl groups were removed. This experiment enabled us to show a difference in the spectral reactions, suggesting greater presence of terminal sialic acid groups in more malignant tumors. 
Further enzymatic treatments of SGTs and IR spectroscopy analysis may provide further insight into the biochemical structure helping to differentiate these particular tumors. The combination of NIRS to microscopy in vibrational microspectroscopy will hopefully further unravel the biochemistry of SGT section margins.
 
Biography
Renaat Coopman is affiliated to the Facial Center at the Department of Plastic, Reconstructive and Aesthetic Surgery UZ Gent (Prof. dr. Ph. Blondeel), and is currently head of the division of Oral and Maxillofacial Surgery Team. 
From 2009 to 2015 he combined his medical studies with general dentistry practice (Prof dr. Roeland De Moor (UGent) & Prof. dr. Roberto Cleymaet (VU Brussels). In July 2015, he started his training in oral & maxillofacial surgery, with residencies at various hospitals: UZ Leuven (Prof. dr. C. Politis, Prof. Dr. J. Schoenaers), UZ Gent (Prof. Dr. H. Vermeersch), Rijnstate Hospital Arnhem (dr. T. Hoppenreijs) and OLV hospital Aalst (Dr. H. Van den Eynde and Dr. G. Van de Vyvere). He successfully graduated in 2019. 
Currently, he is specialized in oral & maxillofacial traumatology, preprothetic surgery, orthognathic surgery and facial reconstructions with emphasis on dental occlusion and facial aesthetics. He provides support to the department of dentistry and is also a member of the cleft lip and palate team. He has a deep personal interest in the development and application of surgical 3D planning and 3D simulations, which he helps to develop at the University Gent under the guidance of the Medical Director of UZ Gent (prof. F. Vermassen).
 
Contact & links
Lab address: University Hospitals Ghent / Ghent University, Corneel Heymanslaan 10, 9000 Ghent, Belgium
Renaat Coopman is interested to receive invitations for presentations or talks