dr. Jasper Van Hoorick (PhD)
CRIG member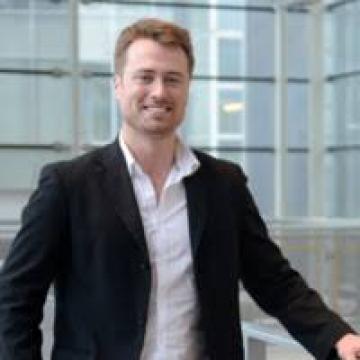 Post-doctoral researcher – Polymer Chemistry and Biomaterials Research Group – Department of Organic and Macromolecular Chemistry 
Principal investigator: prof. Sandra Van Vlierberghe (PhD)
 
Research focus
During my Post-doctoral research I am focussing on the development and commercialisation of new and reproducible bioinks for tissue engineering and biofabrication applications in the framework of the XPECT INX spin-off project.
 
Biography
Jasper Van Hoorick graduated his master in Chemistry in 2014 with distinction with a major in Molecular and Macromolecular design and a minor in Industry and Management. In his master thesis he focussed on the development of tunable hydrogel-polyester combination scaffolds for tissue engineering purposes. The master thesis was awarded with the Agoria award to technological master dissertations, part of the Vlaamse Scriptieprijs in 2014. Part of the award was an executive masterclass in Innovation and Enterpreneurship organized by Vlerick business school which he successfully completed.
In 2015 he obtained an FWO SB mandate for a joint PhD project between the Polymer Chemistry & Biomaterials Research group (PBM) at Ghent University Brussels Photonics (B-PHOT) at the Vrije Universiteit Brussel. In his PhD research he focussed on the development of novel biodegradable polymer materials including aliphatic polyesters as well as hydrogels and their processing into membranes for ocular tissue regeneration. During this research a large focus lies into (high resolution) additive manufacturing using the laser based multiphoton lithography technique. He co-authored 17 Web of Science Core Collection cited papers, 1 book chapter and co-edited one book. Additionally, he attended multiple international conferences to present the results he obtained during his PhD research, which led to receiving a WBC trainee merit award at the 2016 World Biomaterials Conference in Montreal and the Biointerphases student award for best poster presentation at the European Society for Biomaterials annual meeting in 2016.
During his PhD he also participated in a summerschool on Biofabriaction organized by Utrecht University. Additionally, he obtained funding for 5 international research stays in Vienna, Austria (Prof. Dr. Aleksandr Ovsianikov) to perform detailed 2PP experiments on hydrogel formulations developed during his PhD.
Finally, the work performed during his PhD also resulted in the filing of a patent on bifunctional modified biopolymers (PCT/EP2019/063995).
 
Key publications
"Screening of two-photon activated photodynamic therapy sensitizers using a 3D osteosarcoma model", The Analyst, 2019 (PMID: 30916075)  

Heterocellular 3D scaffolds as biomimetic to recapitulate the tumor microenvironment of peritoneal metastases in vitro and in vivo"  Biomaterials, 2018 (PMID: 29306747)   


 
Contact & links
Lab address: Polymer Chemistry and Biomaterials Research Group, Krijgslaan 281 S4, 9000 Ghent
Jasper Van Hoorick is interested to receive invitations for presentations or talks