dr. Emiel De Jaeghere (MD)
CRIG member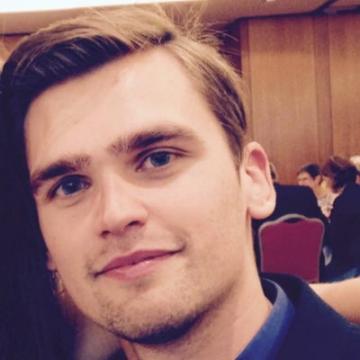 Aspirant , Research Foundation-Flanders
Doctoral fellow/internal medicine resident, Department of Medical Oncology, Ghent University Hospital  
Doctoral fellow, Laboratory of Experimental Cancer Research, Ghent University 
Principal investigators: Prof. Hannelore Denys (MD, PhD), Prof. Olivier De Wever (PhD) and Prof. Frédéric Amant (MD, PhD) 
 
Research focus
Emiel De Jaeghere is dedicated to providing the best care possible to women with cancer. The results of his research can be clustered in three (not disjoint) topics:
Gynecologic oncology (cervical, ovarian, primary peritoneal, uterine/endometrial, and rare cancers)
Tumor immunology (immune checkpoint inhibition and tumor-infiltrating lymphocytes [TILs])
Tumor microenvironment (cancer associated fibroblasts [CAFs] and TILs)
 
Biography
Emiel De Jaeghere was born on the 3rd of October 1993. He graduated as a medical doctor (summa cum laude; GPA 4.0) in 2018 at Ghent University (Belgium). Having great interest in scientific research, he started a PhD program (supported by the Research Foundation-Flanders) at the Laboratory of Experimental Cancer Research (Ghent University) and the department of Medical Oncology (Ghent Univerity Hospital) where he studied the tumor immune microenvironment under guidance of prof. dr. Hannelore Denys, prof. dr. Olivier  De Wever, and prof. dr. Frédéric Amant. He is expected to defend his PhD in Q1 2023. 
During his PhD research, Emiel gained interest to extend his expertise in the treatment of tumors of the female genital tract. More specifically, he has been involved in multiple studies focusing on cervical and uterine cancer. For instance, he contributed significantly to the phase II PRIMMO trial and its associated translational work (manuscripts submitted). During this trajectory, he was intrigued by the methodology of clinical trials. To develop expertise in clinical research methodology, with specific emphasis on the design and proper conduct of clinical trials, he started an advanced master in Statistical Data Analysis (Ghent University) which is currently ongoing.  
Emiel was a visiting trainee at Kliniken Essen-Mitte (Essen, Germany), Netherlands Cancer Institute (Netherlands, Amsterdam), Institut Jules Bordet (Brussels, Belgium), and Erasmus MC (Rotterdam, The Netherlands). He is (co)author of over 10 PubMed cited publications and as of 2022 he is appointed member in the Clinical Practice Committee of the Society of Gynecologic Oncology (SGO). He is member of ASCO, CRIG, ESGO, ESMO, and IGCS.
 
Key publications
Splenic hematopoietic and stromal cells in cancer progression. Cancer Research. 2020;81(2):27-34. (IF2020=12.701; Journal ranking in 'Oncology': 17/242, Q1)

Treatment of ovarian cancer with intraperitoneal platinum: Heating up the debate. Journal of Clinical Oncology. 2019;37(33):3169-3170. (IF2019=32.956; Journal ranking in 'Oncology': 5/244, Q1)

Fibroblasts fuel immune escape in the tumor microenvironment. Trends in Cancer. 2019;5(11):704-723. (IF2019=11.093; Journal ranking in 'Oncology': 13/244, Q1)

Heterocellular 3D scaffolds as biomimetic to recapitulate the tumor microenvironment of peritoneal metastases in vitro and in vivo. Biomaterials. 2018;158:95-105. (IF2018=10.273; Journal ranking in 'Materials Science, Biomaterials': 1/32, Q1)

Link to all publications  of Emiel De Jaeghere via PubMed
 
Contact & links
Lab address: Department of Medical Oncology (Route 535; entrance 56), Ghent University Hospital, C. Heymanslaan 10, B-9000, Ghent, Belgium
Emiel De Jaeghere is interested to receive invitations for presentations or talks