dr. Desirée Dorleijn (MD, PhD)
CRIG member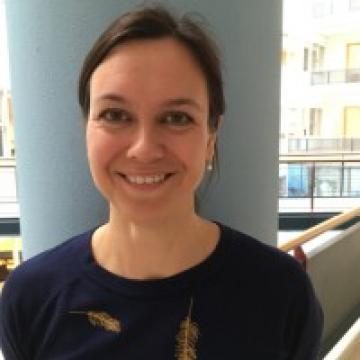 Orthopedic surgeon, orthopedic oncology (UZ Gent)
Investigator in research on prosthetic limb salvage surgery for sarcoma
 
Research focus
Bone sarcoma is a very rare form of bone cancer mostly affecting young people, and its surgical treatment is complex. By enhancing the accuracy of prosthetic insertion after tumor resection, we will be able to avoid functional deficits, additional operations and improve the quality of life of the surviving patients on the long term.
Novelty: 
In first determining the current deviation from the correct implant positioning in 3 planes using no guiding devices, we will create a goal for future referencing. Currently, there are no data available on this positioning deviation. In this study we can provide these data, as well as the method to evaluate implant positioning, facilitating comparative studies with other specialized centers.
By consistently templating an implant onto existing CT scans of the lower limb, we can create an accuracy bracket for implant positioning we will need to reach using guiding devices. Currently there are no clear guidelines for the correct positioning of a reconstruction prosthesis of the knee. In this study we can provide these guidelines. 
The use of CAOS (Computer Assisted Orthopaedic Surgery) is currently focused on improving the accuracy of resection margins during tumor surgery, either using navigation or resection guides. There is very little focus on the correct positioning of reconstruction prosthesis, contrary to the classical resurfacing prostheses of the knee for joint degeneration. In this study we introduce the additional possibility to enhance prosthetic positioning for the distal femur along with achieving a wide resection margin.
As the patient population is very small, research funding is very hard to get as the impact on society is relatively small. However, for the individual patient, less functional deficits and reoperations makes a large difference. This seeding money will allow us to perform this pilot study to reach a clinically relevant proof of concept, which will in turn allow us to design a TBM project (Applied Biomedical Research with a Primary Social finality) for the translation of our findings towards broad clinical application for each level of osteotomy, for each bone and for each prosthesis type.
 
Research team
Prof. Gwen Sys (MD, PhD) - orthopedic oncology professor
dr. Ir. Stijn Herregodts - fundamental/translational researcher
Dr. Arne Burssens (MD, PhD) - main researcher standing CT scan at the Ghent University Hospital
 
Key publications
Validation of a novel risk score to predict early and late recurrence in solitary fibrous tumour. Br J Cancer. 2022 Aug 27. doi: 10.1038/s41416-022-01959-4.

Survival Analysis of 3 Different Age Groups and Prognostic Factors among 402 Patients with Skeletal High-Grade Osteosarcoma. Real World Data from a Single Tertiary Sarcoma Centre. Cancers. 2021 Jan 27;13(3):486. doi: 10.3390/cancers13030486

Multimodality treatment of undifferentiated pleomorphic soft tissue sarcoma of the extremity (eUPS) in the elderly. Eur J Surg Oncol. 2022 May; 48(5)985-993. doi: 10.1016/j.ejso.2021.12.008.


 
Contact & links
Dr. Dorleijn is involved in MOC sarcomas: multidisciplinary team involved in diagnosing and treating patients with bone and soft tissue sarcomas.