prof. Anje Cauwels (PhD)
CRIG member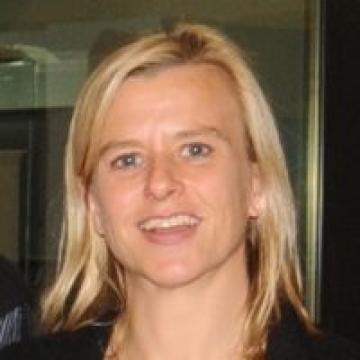 Professor - Cytokine Receptor Lab, VIB Center for Medical Biotechnology (UGent) 
Staff member lab prof. Jan Tavernier
 
Research focus
Safe exploitation of the clinical potential of several cytokines, such as type I Interferons (IFN), Tumor Necrosis Factor (TNF) and Interleukin-1 (IL-1), requires strategies to direct their activity to selected target cells to avoid systemic toxicity. In addition, identifying the precise cellular therapeutic target(s) of these cytokines will also help to design better and safer treatments, separating their beneficial from detrimental cell-specific effects. One strategy to accomplish this is by developing immunocytokines, fusions of wild type (WT) cytokines coupled to antibodies recognizing cell-specific surface-expressed markers. For immunocytokines in development, an approximately 10-fold increase in targeted activity is achieved, increasing the therapeutic index modestly. Indeed, even if coupled to a targeting moiety, WT cytokines still exert unwanted effects while "en route" to their target, due to high affinity binding to their ubiquitously expressed cognate receptors. In addition, WT (immuno)cytokines may also rapidly disappear from the circulation before reaching their target cells (the so-called "sink effect"). 
To improve the therapeutic index of toxic cytokines, and to investigate and understand the involvement of specific cell types in the systemic effect of pleiotropic cytokines, we recently protein-engineered AcTakines (Activity on Target Cytokines), optimized immunocytokines that use mutated cytokines with strongly reduced affinity for their receptor complex instead of WT cytokines . Fusing the mutated cytokine to cell-specific targeting domains specifically targets them to the selected cell population, restoring the AcTakine activity at that particular cell population with an up to 3-log targeting efficiency. Since 2015, we are analyzing several AcTakines as possible generic and safe anti-tumor treatments. In addition, we recently also started to investigate the potential of AcTaferon (type I IFN-based AcTakine) in auto-immune diseases such as Multiple Sclerosis.  
Fundamental understanding of the cellular target(s) of cytokines will help to design better and safer treatments, separating beneficial from detrimental effects, and reducing side effects.
 
Biography
Immediately after obtaining her PhD (on TNF-induced shock and anti-tumor potential in mice) in the lab of Prof. Walter Fiers (UGent) in 1995, Anje Cauwels moved abroad for 2 post-doctoral stays, the first in the lab of Prof. Elaine Tuomanen at Rockefeller University, NY, USA; the second in the lab of Prof. Werner Zimmerli at the Kantonsspital in Basel, Switzerland. During both post-doctoral stays, she studied meningitis models in vivo, as well as several bacteria causing meningitis.
After 4 years abroad, she returned to Belgium as a senior post-doctoral fellow in the lab of Prof. Peter Brouckaert, UGent. In various types of septic (induced by TNF, LPS, CLP) and anaphylactic shock, she studied the role of NO/sGC, caspases, apoptosis and necrotic processes and mediators. 
In 2014, Anje Cauwels joined the Cytokine Receptor Lab (CRL) headed by Prof. Jan Tavernier, to set up the in vivo AcTakine work, obtaining proof-of-principle with a type I IFN-based AcTaferon as a potent and safe anti-tumor treatment. In addition to several different tumor models, she is also introducing various autoimmune models in mice. 
 
Key publications
A safe and highly efficient tumor-targeted type I interferon immunotherapy depends on the tumor microenvironment. OncoImmunology. 7:e1398876. 2017 

Targeting type I interferon to dendritic cells as a safe and generic cancer immunotherapy allowing complete tumor eradication and immunity in combination treatments. Cancer Res., 78:463-474. 2018 

Safe eradication of large established tumors using neovasculature‐targeted tumor necrosis factor‐based therapies. EMBO Mol Med,12:e11223. 2020


 
Contact & links
Lab address: A. Baertsoenkaai 3, 9000 Gent
Anje Cauwels is interested to receive invitations for presentations or talks