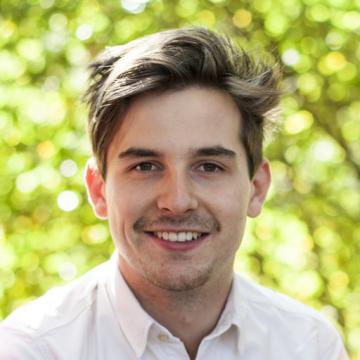 Doctoral fellow – Dept. of Radiation Oncology – UZ Gent
Principal investigators: prof. Jan Detand and prof. Werner De Gersem
 
Research focus
Previously, the Prone Crawl Breast Couch was developed at UZ Gent. This new crawl positioning device is used to treat breast cancer patients with radiotherapy and shows proven patient comfort and stability. It is the first device that enables prone position with better regional lymph node bundle access. 
Currently, Max is developing a new version of the Prone Crawl Breast Couch. This version, BC4, will tackle current flaws and will be designed as a final product and surpass the prototyping-stage. Next to this, an MRI-compatible version will be developed. This allows us to use it on MRI and gain imaging data for our medical assumptions. Also, it would be compatible with the new MRI-LINAC technology. 
 
Biography
Max is an Industrial Engineer in Industrial Design, working at both UZ Gent and UGent Campus Kortrijk.
 
Contact & links
Lab address: Ghent University Hospital, Dept. of Radiation Oncology, 0 RTP – entrance 98, Corneel Heymanslaan 10, B-9000 Gent