Jonatan Gabre
CRIG member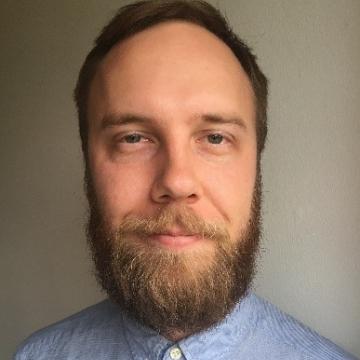 Doctoral fellow - Lab of computational cancer genomics and tumour evolution (Faculty of Medicine and Health Sciences, UGent) 
Principal investigator: prof. Jimmy Van den Eynden (MD, PhD) 
Doctoral fellow - Palmer lab (Sahlgrenska Academy, University of Gothenburg, Sweden)  
Principal investigator: prof. Ruth Palmer (PhD)
 
Research focus
The aim of my research is to better understand the signaling dynamics of ALK-targeted therapies in neuroblastoma and other cancer types. 

ALK (Anaplastic Lymphoma Kinase) is a tyrosine kinase receptor that is a clinical target of major interest and oncogenic variants have been identified in many different tumor types, including neuroblastoma and non-small-cell lung cancer. An increasing amount of high-throughput experimental data on ALK signaling is being generated and becoming publicly available, but these data are scattered and no good methods exist to integrate different datasets. 

Therefore, my PhD research has a double aim.
The first goal is to develop a method to integrate transcriptomics and phosphoproteomics data, aiming to identify key pathways and novel drug targets in ALK-positive neuroblastoma.
The second goal is to centralize ALK signaling data in an easy to use and interactive web platform, making ALK data more accessible, also for scientists with little or no computational background.      
 
Biography
PhD student since 2020.
Master of Science in Genomics and Systems Biology, University of Gothenburg, Sweden (2019). 
Bachelor of Science in Molecular Biology, University of Gothenburg, Sweden (2014). 
 
Key publications
ALK fusion oncogene driven SERPINB4 expression enhances tumor survival in NSCLC. Proc. Natl. Acad. Sci (PNAS), 2023. (PMID: 36791109)

Novel human-derived EML4-ALK fusion cell lines identify ribonucleotide reductase RRM2 as a target of activated ALK in NSCLC. Lung Cancer, 2022. (PMID: 35933914)

Loss of RET Promotes Mesenchymal Identity in Neuroblastoma Cells. Cancers, 2021. (PMID: 33921066)

ATR inhibition enables complete tumour regression in ALK-driven NB mouse models. Nature Communications, 2021. (PMID: 34819497)


 
Contact & links
1) Department of Human Structure and Repair, Unit of Anatomy and Embryology, Corneel Heymanslaan 10, UZP123, 9000 Ghent, Belgium
2) Sahlgrenska Academy, Gothenburg University; Medicinaregatan 9B, Gothenburg, SE-41390, Sweden
Jonatan Gabre is interested to receive invitations for presentations or talks