Jeroen Vierstraete
CRIG member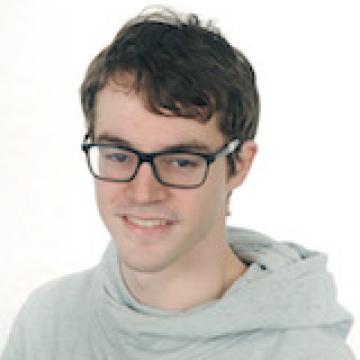 PhD fellow – Lab Claes, Center for Medical Genetics Ghent (Faculty of Medicine and Health Sciences, UGent)
Principal investigator: prof. Kathleen Claes (PhD)
 
Research focus
I am using zebrafish as a model organism to study cancer. 
In a first project I use zebrafish to investigate the effect of Variants of Unknown Clinical significance in BRCA2. Therefore, I insert variants of interest into the genome of zebrafish, using Crispr-Cas9 mediated genome editing. Fish containing these variants are tested on their capacity of allowing Homologous Recombination (HR). I previously showed that this function is conserved in zebrafish. Failure to provide HR indicates that the variant is non-functional, and thus likely to be pathogenic. This assay could be used as an in vivo test to predict the functional effect of variants and aids counseling of patients.
Furthermore, I am characterizing the zebrafish orthologue of ATM, another breast cancer predisposition gene. I investigate if ATM functions are conserved in zebrafish. Optimization of functional read-outs will allow in vivo study of variants in this gene.
Patients with BRCA1/2 mutated tumors can be treated with PARP inhibitors (PARPi). New PARPi are constantly in development. Therefore, there is a great need to find assays that can accurately portray PARPi efficiency. I am currently developing an efficient read-out in zebrafish.
Finally, I am working on a zebrafish embryonic xenograft model. This model has advantages over mouse xenograft models, like the short engraftment time and the limited amount of material needed allowing to test the sensitivity of the tumor to a several treatments in parallel. In this project I focus on pancreatic cancer, a disease with a very poor prognosis. Treatment is based on a 'one-size-fits' system and many patients do not respond. There is a great need for individualized therapy for these patients. I think that this approach can be used in the near future to provide patients with the most optimal treatment strategies.
 
Biography
2009-2012:     Bachelor in de Biomedische Wetenschappen, Universiteit Gent. Cum laude. 
2012-2014:     Master in de Biomedische Wetenschappen, Universiteit Gent. Magna Cum laude. Thesis: In vitro stralingsgevoeligheid van hematopoëtische stamcellen. Promotor: prof. Hubert Thierens.
2014-        :     Doctor in de Medische Wetenschappen, Universiteit Gent. Promotor. prof. Kathleen Claes. Co-Promotor. prof. Anne Vral

AWARDS:
Best poster award. Meeting: Belgian Society of Human Genetics, Louvain-la-Neuve, België, 17 februari 2017. Study of homologous recombination repair in brca2 knockout zebrafish embryos.
Best poster award. Meeting: Oncopoint 2018, Gent, België, 28 februari 2018. Uncovering the role of atm in zebrafish. 
Afwerkersbeurs Emmanuel van der Schueren (Kom op Tegen Kanker) 2018, Brussel, België. 12 december 2018
Best poster award. Meeting: Oncopoint 2019, Gent, België, 20 maart 2019. Efficient in vivo testing of PARP inhibitor response using zebrafish embryos.
 
Key publications
Accurate quantification of homologous recombination in zebrafish: brca2 deficiency as a paradigm. Scientific Reports. 2017, PMID: 29184099

The Zebrafish as an Emerging Model to Study DNA Damage in Aging, Cancer and Other Diseases. Frontiers in Cell and Developmental Biology. 2019, PMID: 30687705

Mendelian randomisation study of height and body mass index as modifiers of ovarian cancer risk in 22,588 BRCA1 and BRCA2 mutation carriers. British Journal of Cancer. 2019, PMID: 31213659


 
Contact & links
Lab address: Center for Medical Genetics, Medical Research Building 1, Ghent University Hospital (entrance 34), Corneel Heymanslaan 10, 9000 Gent, Belgium
Jeroen Vierstraete is interested to receive invitations for presentations or talks