dr. Srinath Govindarajan (PhD)
CRIG member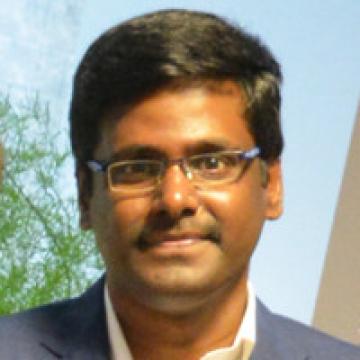 FWO - Senior postdoctoral researcher - Lab of Molecular Immunology and Inflammation, Department of Rheumatology (Faculty of Medicine and Health Sciences, UGent), VIB-UGent Center for Inflammation Research
Principal Investigator: prof. Dirk Elewaut (MD, PhD) 
 
Research focus
Endoplasmic reticulum (ER) stress is essential in coordination of protein quality control, lipid biosynthesis and biogenesis of membrane compartments to preserve cellular homeostasis. This occurs through its related signaling pathways, UPR (unfolded protein response), and by transcriptionally upregulated genes encoding chaperones, oxidoreductases as well as ER-associated degradation components. Requirement of UPR to restore homeostasis in tumour cells is widely acknowledged to contribute to tumorigenesis of several origins including but not limited to breast, lung, liver, and colon.
Recent studies suggest that alterations in lipid metabolism at both cellular and organismal level seem to regulate different aspects of tumour biology such as growth, energy, redox homeostasis, and metastases. However, how lipid metabolism affects anti-tumour immunity is much less clear. The immune system also utilizes distinct classes of lipids as immunogenic antigens in a manner analogous to peptide antigens. Here, antigenic lipids bind a family of major histocompatibility complex class I-like glycoproteins called CD1d or other isoforms, which specialize in presenting endogenous- and pathogen-derived lipids to specialized T lymphocytes called NKT cells. Upon recognition of lipid antigens, NKT cells can secrete Th1, Th2 and Th17 cytokines. Among these, Th1 and Th17 cytokines play a major role in anti-tumour immunity by activating other immune cells such as NK cells to mediate tumour surveillance. Our group has optimized Th1 driven responses elicited by iNKT cells by generating a series of alfa-GalCer analogues, that led to superior protection in the B16 lung metastasis model. iNKT cells have tumour protecting roles in a variety of malignancies including both solid tumours (melanoma, gastrointestinal cancers, breast cancers, fibrosarcoma) as well as haematological malignancies. However, the therapeutic use of alfa-GalCer has been faced with obstacles such as existence of anti-α-gal-antibodies. Therefore, identification of potential endogenous lipid antigens with strong immunogenicity is required to achieve an affective tumour immunosurveillance.  
We recently observed that lipid biosynthesis in antigen presenting cells such as macrophages undergoing UPR leads to a marked CD1d dependent activation of NKT cells. MS-MS analysis of total lipids generated in macrophages undergoing UPR shows significant changes in neutral lipid classes, of which 10 are the most promising candidates.These neutral lipids also activate NKTs in a CD1d dependent manner. We therefore hypothesize that in tumour microenvironment ER stress/ UPR induces a lipid biosynthetic program generating distinct classes of both neutral and polar lipid species. Lipid species generated under these conditions will modulate tumorigenesis through CD1d dependent NKT cell responses. 
 
Biography
EDUCATION:
PhD in Health and Life Sciences (Immunology) (2017), Department of Rheumatology, Ghent University, VIB –UGent, Center for Inflammation Research, Ghent 9000, Belgium
Bachelor of Technology (Agri-Biotechnology) (2009), Tamil Nadu Agricultural University (University 8th Rank), India
 
RESEARCH EXPERIENCE:
FWO: Senior Postdoctoral Researcher, 2020 - Present, Lab of Molecular Immunology and Inflammation, Department of Rheumatology, VIB –UGENT Center for Inflammation Research, Belgium
FWO: Junior Postdoctoral Researcher, 2017 – 2020, Lab of Molecular Immunology and Inflammation, Department of Rheumatology, VIB –UGENT Center for Inflammation Research, Belgium
Junior Research Fellow, 2010 - 2012, Center for Cellular and Molecular Biology (CCMB), Habsiguda, Hyderabad, Andhra Pradesh, India  
Junior Research Fellow, 2009 - 2010, Genetic Engineering and Biotechnology, SRM University, Chennai, Tamil Nadu, India
 
RESEARCH STUDY INVITATION:
Peter Doherty Institute, University of Melbourne, June - August 2019, Professor Dale Godfrey, an expert on unconventional T cell biology to be taught and to understand TCR trap assay – Ligand discovery
 
Key publications
ER stress in antigen presenting cells promotes NKT cell activation through endogenous neutral lipids. EMBO Reports. Feb 2020

Stabilization of cytokine mRNAs within invariant NKT cells requires the serine-threonine kinase IRE1 alpha. Nature Communications. Dec 2018

Structural Activation of Pro-inflammatory Human Cytokine IL-23 by Cognate IL-23 Receptor Enables Recruitment of the Shared Receptor IL-12Rβ1. Immunity. Jan 2018

Leptin receptor antagonism of iNKT cell function: a novel strategy to combat multiple myeloma. Leukemia. Dec 2017

NKT sublineage specification and survival requires the ubiquitin modifying enzyme TNFAIP3/A20. J Exp Med. Aug 2016

The thymic microenvironment differentially regulates development and trafficking of invariant NKT cell sublineages. J Immunol. Dec 2014 

Liposomes for targeting hepatocellular carcinoma: Use of conjugated arabinogalactan as targeting ligand.  Int J Pharm. Dec 2014 

Gene delivery into human cancer cells by cationic lipid-mediated magnetofection. Int J Pharm. Mar 2013 

Targeting human epidermal growth factor receptor 2 by a cell-penetrating peptide-affibody bioconjugate.  Biomaterials. Mar 2012 


 
Contact & links
Lab address: prof. Dirk Elewaut group/VIB-UGent Center for Inflammation Research, Lab of Molecular Immunology and Inflammation, Department of Rheumatology, MRB2, Corneel Heymanslaan 10, Ghent University
Srinath Govindarajan is interested to receive invitations for presentations or talks