dr. Pieter De Backer (MD)
CRIG member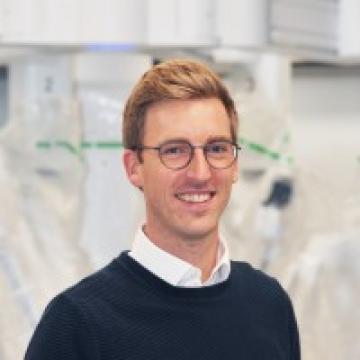 Doctoral fellow – Research Group IBiTech-BioMMedA, Department of Electronics and Information Systems, Faculty of Engineering and Architecture, UGent
Urology resident – Urology Department (UZ Gent)
Medical innovation expert – Orsi Academy, Melle
3D Printing engineer – 3DGuidedSurgery.com
Principal investigators: prof. Karel Decaestecker (PhD, MD) and prof. Charlotte Debbaut (PhD)
 
Research focus
The aim of this research is to optimize and personalize the treatment of patients suffering from kidney cancer. Whenever possible, these patients are treated by tumour resection, preferably using minimal invasive robotic surgery. When the tumour is rather small, only the tumour is resected during a so-called partial nephrectomy procedure. However, when the tumour is too large or the case is too complex, the entire kidney is removed to minimize the risks for the patient during the surgery. This implicates that the patient not only loses the tumour, but also the functionality of the healthy tissue still present in the affected kidney.
Our goal is to minimize this loss, by preoperatively modelling kidney perfusion. For this, we are developing state-of-the-art patient-specific treatment planning tools and video-based assessment using computer vision techniques. This way, we want to provide all possible knowledge about the patient's case in order to guide the surgeon towards the choice for a partial nephrectomy procedure, without compromise on patient safety. 
 
Biography
I received the degree of Bachelor of Science in Electromechanical Engineering in 2011 (UGent – with distinction) and the interuniversity degree of Master of Science in Biomedical Engineering in 2013 (UGent-VUB – with great distinction).
After a short stop in the robotics industry, I pursued my medical degree, which I obtained in 2018 (VUB – with great distinction).
In 2015, I co-founded a 3D Printing company and am actively involved in 3D printing in surgery. Currently in my 3th year of Urology residency at Ghent University hospitals, I have started an interdisciplinary PhD between the Faculty of Engineering and Architecture and the Faculty of Medicine and Health Sciences, in which I can pursue my passion for medical technology. 
 
Contact & links
Lab address: campus UZ, ingang 71 (gebouw P3),  route 710, Corneel Heymanslaan 10, Ghent 9000, Belgium
dr. De Backer is involved in the Orsi Academy, training centre for minimal invasive surgery, Proefhoevestraat 12, 9090 Melle
dr. De Backer can provide support in minimal invasive surgery testing setups through Orsi Academy and can provide support in challenging 3DPrinting ideas through 3DGuidedSurgery.com
dr. De Backer is interested to receive invitations for presentations or talks